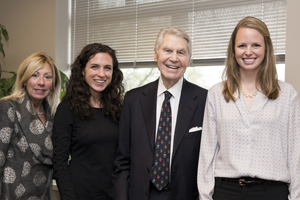 John Brown grew up on a working farm in western Tennessee. Born during the Great Depression, the lessons he learned as a child "really did affect me and how I operated as an adult," said the long-time CEO & Chairman of Stryker Corp., a medical product,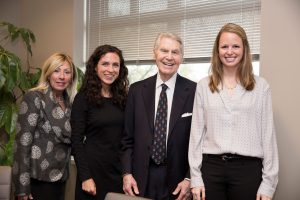 and software company. Brown, who retired from Stryker in 2009, recalled how he and his brother once found a dynamite cap and decided to light it. Not surprisingly, it exploded. Brown almost lost his hand and was nearly blinded. The lesson? "Think before you act."
This past March, Brown and his daughter, Sarah Beth Brown 89MBA, an executive at The Coca-Cola Company, visited Goizueta. The first stop was Professor Rick Gilkey's "Leading with Emotional Intelligence," class, where John Brown spoke to students and reconnected with Gilkey, who grew up in Kalamazoo, Mich., home to Stryker's headquarters. (Gilkey's father was a friend of Homer Stryker, the company's founder).
When Brown joined Stryker as CEO in 1977 after the death of then company president & CEO, Lee Stryker (Homer's son) in a plane crash, Stryker's main products were emergency room stretchers and a cast cutter. Annual sales were $17 million. In 2016, annual sales hit $11.3 billion. Much of this growth is attributable to the goals Brown set when he took Stryker's helm: to take the company public, to grow earnings per share 20 percent every year, and to achieve that growth through innovation and acquisition. "We went from a company that was amusing to our competitors to one they'd fear," Brown told the students.
"We went from a company that was amusing to our competitors to one they'd fear," Brown told the students.
Brown insists it was the 20 percent growth goal, more than his leadership, that most influenced Stryker. Having that growth goal affected how management looked at everything from markets and strategies to production and selling. And it meant they needed to measure what they were doing. "Everybody had a number," said Brown. For decades, at 7:30 am each Monday, management met in Brown's office. "The goal was not to solve a problem but to define the problem and make sure someone was working on it," he said. When Gilkey asked Brown to define the role of the CEO, he responded: "Great CEOs are those that are in service to the organization. As a CEO you win when your organization wins. You win when your team wins. You lose when they lose."
During the visit, the Browns also met with Sandy Jap, the Sarah Beth Brown Professor of Marketing, with the Sarah Beth Brown Scholars Anna Navrati 17MBA and Cat Rickenbacker 18MBA, as well as with Goizueta Dean Erika James.