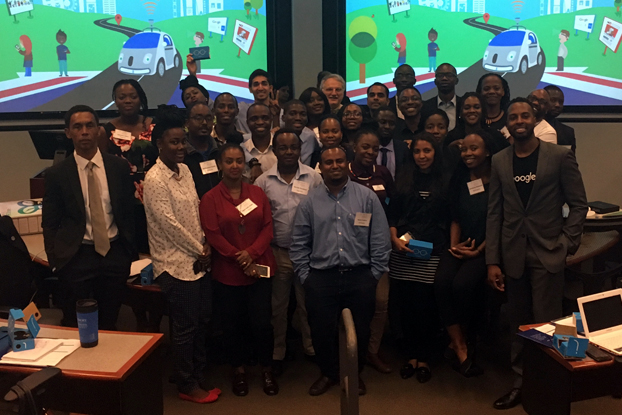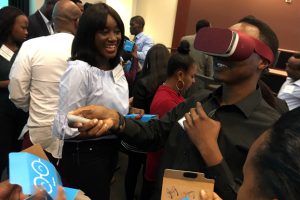 In July, fellows from the Young African Leaders Institute, or YALI, got to spend the day learning about Goizueta.
The 25 individuals from 19 of countries are recipients of the Mandela Washington Fellowship.
Launched by Former President Barack Obama in 2014, the program selects 500 fellows from an applicant pool of more than 50,000. The fellows are divided among 20 academic institutions in the United States to study one of the three tracks: business and entrepreneurship, public administration and civic engagement.
The program provides opportunities for young Africans to enhance their leadership skills and create meaningful ties with American citizens, businesses and organizations, as well as each other.
"We are partners. You are the leaders," said Vice Dean of Faculty Kristy Towry, greeting the group. "You are the people who will change the world, by changing Africa. We are so happy you are here with us and we can share a little bit of Emory with you today. Being a part of this program is one of the great honors of my life and this school."
The fellows visited Atlanta universities and corporations for six weeks. The trip is part of a program at Clark Atlanta University, and the visit to Goizueta offered exposure to the school's challenging curriculum and culture.
The trip also provided an opportunity for participants to learn more about business around the globe, including an increase in technology and trends.
The highlight of the group's visit to Goizueta Business School was a visit from three Google representatives, including alumnus Faizan Bhatty, Kishore Nimmagadda and Stephen Tillman. The trio represented areas of digital marketing, development and Google Fiber — the company's consumer Internet service.
Participants learned details of Google's strategy, including its revenue model (90 percent from search ads) and expansion into mobile phone production and virtual reality. Participants of the program were able to demo Google hardware, including its first smartphone — the Pixel.
Goizueta Professor Benn Konsynski, the primary faculty organizer for the event, reminded fellows that developing economies in Africa will have access to new technology sooner rather than later, especially those from Google.
"Keep those things in mind as we start looking at some of these changes that have been phenomenal in a short window," he said.
Fellows also took part in a negotiations course taught by Goizueta faculty member Earl Hill.