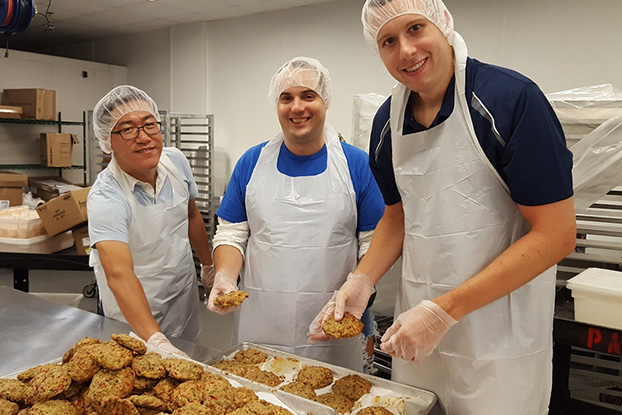 For the first time this year, the Full-Time MBA Class of 2018 officially gathered to meet, connect and work side by side during the annual Keystone event.
The One-Year and Two-Year students joined together the day before classes officially started at Goizueta to have a Town Hall, share a Coke Toast and "Clap-In" the first-year students of the 19MBA class.
After a breakfast in the Commons, Associate Dean Brian Mitchell spoke at the annual Keystone Town Hall discussing how this is the time for students to reflect on their experience so far.
"This is your moment to be deliberate, to pause and reflect back on your pre-Keystone experience, whether that was a full first year and an internship or your summer experience as a One-Year student, and think about how you'll apply that going forward," Mitchell said during the Town Hall.
Additionally, Mitchell asked the students to do something unique during this Keystone experience. Since 2012, students have been tasked in writing a letter to themselves detailing their business objectives. During their five-year reunion, each student gets to open their letter to see how close they were to achieving those objectives they set five years prior.
The 18MBA class also had the opportunity to partake in the annual "Clap-In" tradition in Jenkins Courtyard where they officially clapped in the 19MBA first-year students. The 18MBA class also formally welcomed the 19MBA first-year students by giving a Coke Toast, offering words of encouragement capped off with the cheers of a Coke.
The 18MBA class "claps-in" the first-year students of the Class of 2019 during today's Keystone Experience. #MeetGo… https://t.co/GUTM4ISWPR

— Emory Goizueta (@EmoryGoizueta) August 22, 2017
For the remainder of the day, the 18MBA class had the opportunity to give back in the Atlanta area at various locations, including Books for Africa, Open Hand, Piedmont Park Conservancy, Covenant House Georgia, Centennial Olympic Park, Jerusalem House, the Salvation Army Kroc Center Atlanta, International Rescue Committee, HouseProud, MedShare and the Atlanta Children's Shelter.
"Keystone is one of the most important programs of the Goizueta student experience because it helps students pause for reflection and think with intention about their final two semesters of business school," Mitchell said. "Keystone is also a community-oriented program. Internally, it brings the One-Year and Two-Year MBA students together as a class, and the 'Clap In' serves as the official welcome for our first-year students. Externally, Keystone is our vehicle for demonstrating our commitment to our broader community through service."
View the gallery:
[ngg_images source="galleries" container_ids="4″ display_type="photocrati-nextgen_basic_slideshow" gallery_width="600″ gallery_height="400″ cycle_effect="fade" cycle_interval="8″ show_thumbnail_link="0″ thumbnail_link_text="[Show thumbnails]" order_by="sortorder" order_direction="ASC" returns="included" maximum_entity_count="500″]