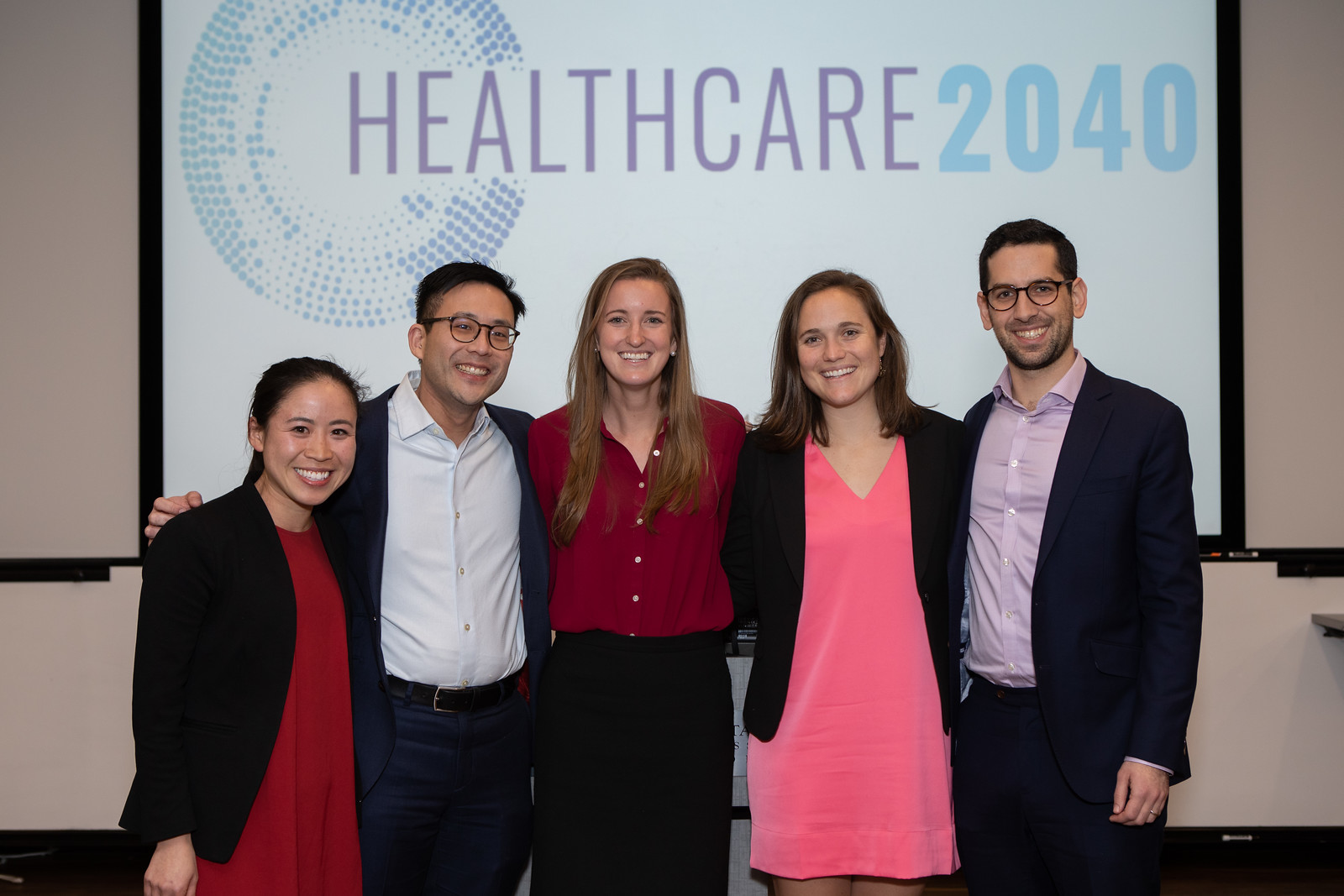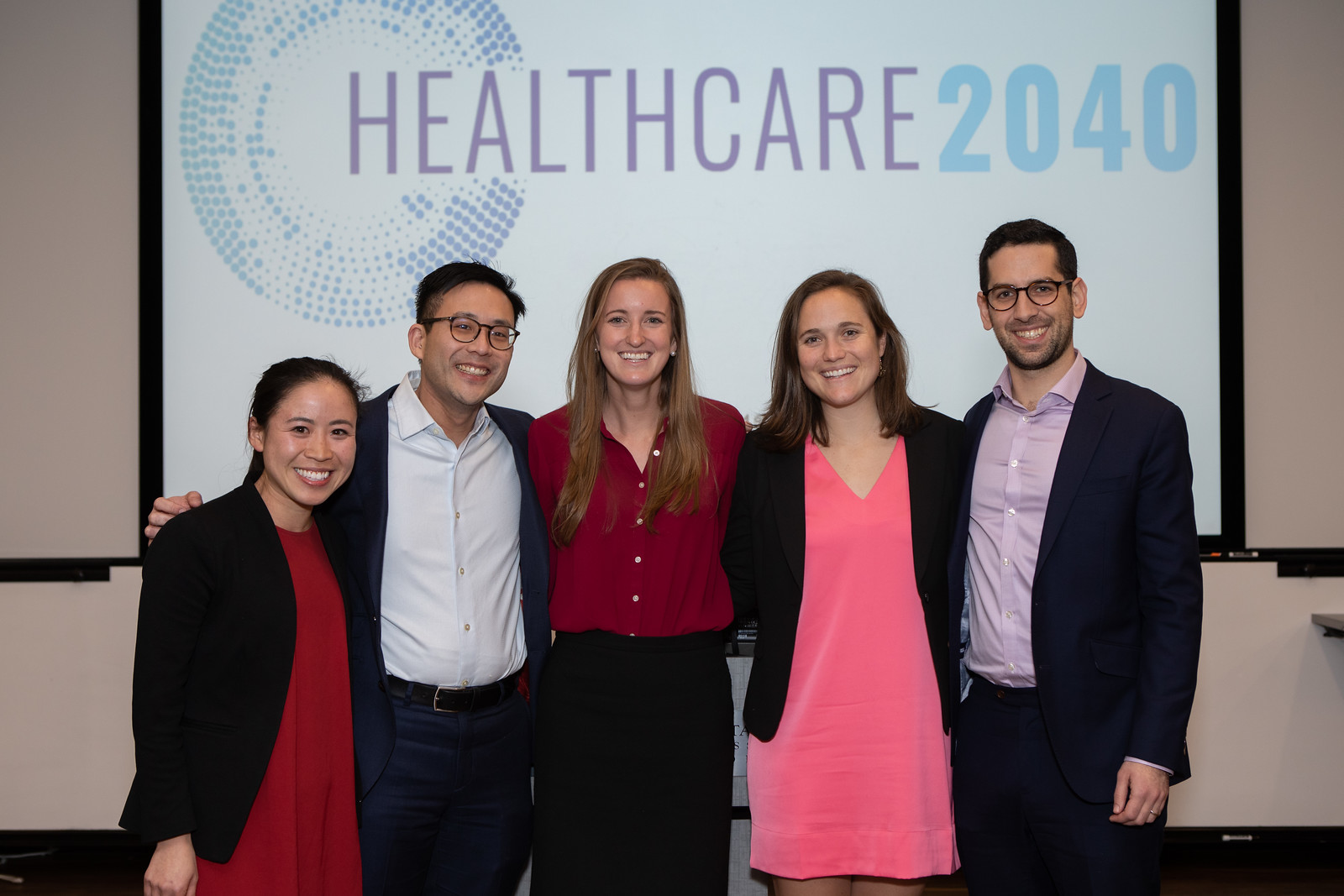 Six teams were chosen to present their visions of healthcare delivery in 2040 at Goizueta's Healthcare Futuring Competition finals, in partnership with Goizueta Healthcare Association, on February 1. The competition asked students to complete a futuring, or scenario development, exercise to envision the landscape of the U.S. healthcare system 20 years into the future. Students from throughout the Emory community and other Atlanta-area schools participated to compete for a prize pool of $10,000.
The winning team, Healthcare Odyssey, was comprised of Shirley Gao 20MBA/MPH, Taylor Richardson 20MBA, Steven Cheng 18MBA, Avi Scher 20MBA and Marnie Harris 20MBA.
In their vision of the future, Healthcare Odyssey saw the consumer becoming the center of a healthcare system where data are just as valuable as dollars. They envisioned the creation of a trusted third-party data storage system they called the Biodata Bank.
According to Gao, the team shared a strong interest in healthcare and used collaboration and creativity to see unique connections between various domains. "We had diverse backgrounds coming in: expertise in clinical trials, social work experience, hospital administration, program development and consulting. We were all able to pull from our domains of knowledge and develop a super innovative, unique concept of a 'biodata bank'!"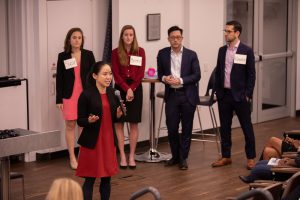 As the team saw it, the Biodata Bank would collect data from various sources including apps, genetic profiles and medical records; store the data using secure blockchain technology; analyze the data using artificial intelligence and finally, output personalized treatment and recommendations to consumers. Healthcare Odyssey posited the Biodata Bank would cause power shifts throughout the U.S. healthcare system and ultimately give consumers more power by allowing them to control their own data.
Coming up with the Biodata Bank idea was the result of playing out scenarios from the perspectives of various individuals living in 2040, according to Cheng. "Playing out each scenario always resulted in the convergence of a single weakness: the lack of trust in how data is collected and shared. Our team quickly converted this single weakness into an opportunity for a new entrance into the market to be a third-party trusted source to collect, aggregate, translate and transfer health information data.  The Biodata Bank was the cornerstone of our vision," said Cheng.
For Gao, the competition was by far her favorite experience of her first year. "Between the panel and networking reception the night before, and the presentation itself, I was able to meet not only industry leaders, but also other students from across Goizueta and other graduate schools. I really appreciated the opportunity to meet others and have deep conversations about a topic I'm extremely passionate about."
Cheng said for him, the competition provided an amazing opportunity to think about how industries "sense and respond" to changing environments. "It also provided the opportunity to get together with really amazing, smart and passionate colleagues in a room to hash out how we thought the healthcare industry would change. I enjoyed 'getting real smart — real fast' and building off each of the members' expertise.
"It was really exciting to watch other groups' presentations during the competition," Cheng added. "Every presentation had amazing insights into how they thought the healthcare industry would evolve. Any one of the teams could have easily won the competition."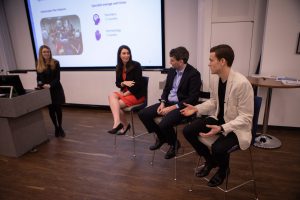 Team Cutting Edge took second place with their vision of a world in which drones deliver healthcare kits, the wealthiest Americans have access to concierge healthcare, and Big Data and AI come together to predict and prevent disease.
Tied for third place were teams Single is Streamlined and The Futurists. Single is Streamlined foresaw a single-payer system taking effect along with several legislative acts to incentivize preventative care and wellness and to keep drug prices low. The Futurists saw "the smart ICU" becoming a hallmark of the future, along with personalized medicine and a patient-centered healthcare economy.
Renee Dye, associate professor in the practice of organization and management at Goizueta, created and ran the competition. "All of the judges were tremendously impressed with the creativity each of the student teams demonstrated in describing their visions for Healthcare 2040.  We were even more impressed with the students' command of the complex issues facing U.S. healthcare which will play out over the next two decades," Dye said.
Finalists
Healthcare Odyssey: Shirley Gao, Taylor Richardson, Steven Cheng, Avi Scher, Marnie Harris
Team Cutting Edge: Rosilyn Chirayath, Eric Herrera, Bethany Larkin, Katie McComb, Will Rock
The Futurists: Biaggio Uricoli, Lacey Perdue, James Kelvin, Eashani Sathialingam, Kyle Cowdrick
Single is Streamlined: Morgan Bullock, Colleen Mita, Julia McBrien
Delorean: Josh Chang, Tommy Flynn, Jasmine Nakayama, Sakinah Watts
Vision 2040: Calvin Pegus, Akil Gregory, Marshawn Shelton
Judges
Arda Ural, Principal, Ernst & Young, Life Sciences Sector
Josh Schwartz, General Partner, Jumpstart Capital
Scott Pillitteere, Managing Director, Navigant Consulting
Matt Brady, Associate Partner, Innosight
Renee Dye, Associate Professor, Practice of Organization & Management, Goizueta Business School
David Howard, Professor, Health Policy & Management, Rollins School of Public Health
Donald Lee, Associate Professor, GoizuetaBusinessSchool