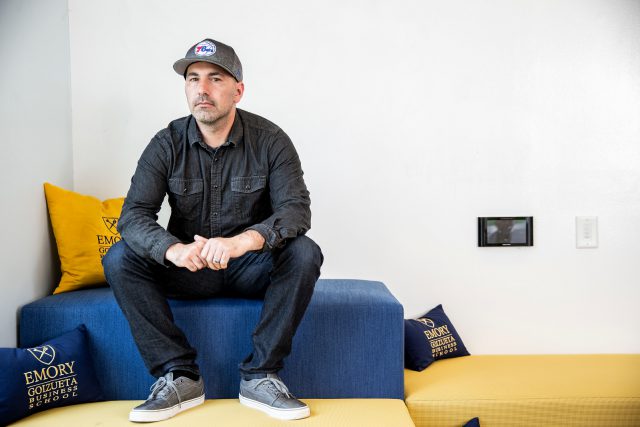 Even over Zoom, Scott Budnick 99BBA showed up ready to represent his beloved hometown of Atlanta. Speaking from his home in California while dressed in a Waffle House hoodie, Budnick launched the Learning & Leading: Goizueta Distinguished Speakers Series on September 3, proving that following one's values can bring not only clarity but impact and meaningful change.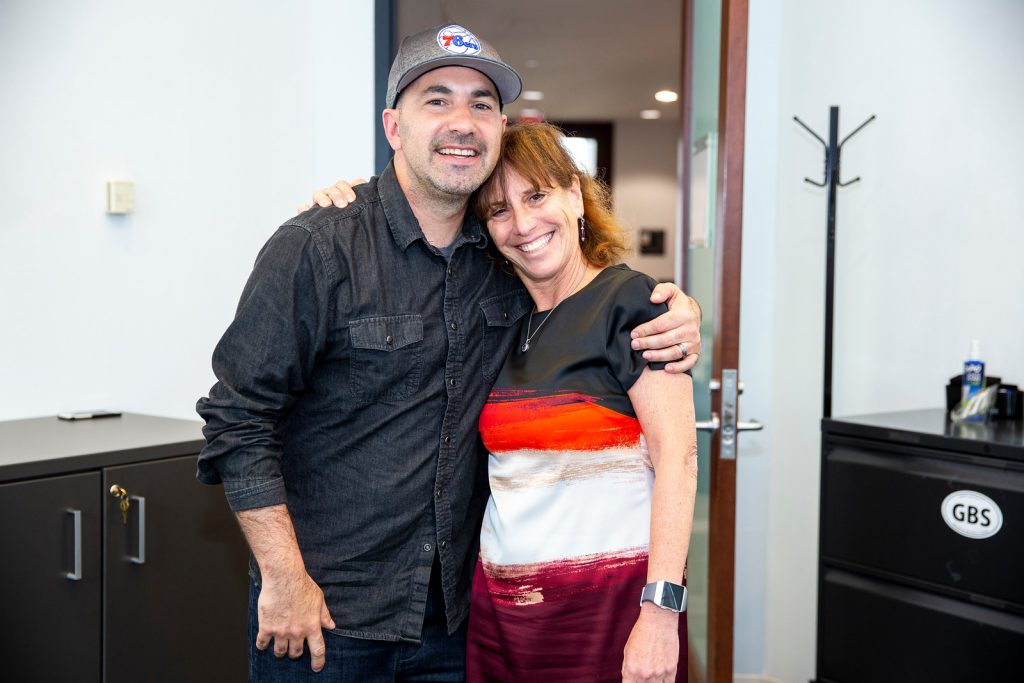 The Learning & Leading: Goizueta Distinguished Speakers Series is Goizueta's endeavor to create connections between students, alumni, faculty, staff and the broader business community. Andrea Hershatter, senior associate dean and director of the BBA program, moderated the event and spoke on why Budnick, a film producer, founder of the Anti-Recidivism Coalition (ARC) and CEO of One Community, a film, television and media company, was the perfect first guest: "We've been talking a lot at Goizueta about how we live our values," she said. "You embody not only what we stand for at Emory and Goizueta, but our aspirational goals for what people can accomplish when they want to make a difference in the world."
With nearly 250 students and guests attending the event virtually due to COVID-19, Budnick shared his story of an encounter that changed his trajectory and brought meaning to a purpose-driven life.
An exuberant first step
Budnick was a freshman at Emory when a casting director for the TNT drama Andersonville visited the school in search of extras. Budnick signed up. He loved being on set. So much so that after earning his BBA, he skipped graduation to get a head start on his drive to Los Angeles, where he hoped to land a job in the film industry. An upstart director and producer, Todd Phillips, was getting ready to shoot his first commercial movie, Road Trip. Budnick got a job as Phillips' production assistant. As Phillips' career took off, so did Budnick's. The movies Old School and Starsky & Hutch followed. Within a few years, Budnick was president of Phillips' company, Green Hat Films. By the time Phillips directed The Hangover, Budnick was an executive producer with the company. The Hangover trilogy raked in a collective $1.4 billion—to date, the highest grossing R-rated comedy of all time, said Budnick.
In 2003, Budnick's friend asked if he'd take part in InsideOUT Writers, a non-profit organization that conducts weekly writing classes at juvenile detention centers in Los Angeles. Budnick agreed and started working with David, a 15-year-old who had recently been sentenced to 300 years to life for what Budnick described as being in the wrong place at the wrong time.
"It was obvious that if David had my skin color, if David had my resources, if David had my father, he would have been out on bail," said Budnick. "But because David came from the foster care system and poverty, he was going to prison for 300 years to life, and that seemed incredibly unfair."
The people Budnick met that day affected him. He continued to go to juvenile halls and work with the criminal justice system while making movies. By the time The Hangover III came out in 2013, Budnick had become disillusioned with his film career. "I needed more meaning in my life. I needed something," Budnick said. "Having $200 dinners every night with writers, producers, and directors and talking about writers, producers, and directors was not doing it for me."
A time for change
The catalyst was seeing the movie Twelve Years a Slave, an adaptation of an 1853 memoir by the same title. The film won the Academy Award for Best Picture in 2013. "It tore me in half," he said. Budnick decided he couldn't make comedies anymore. Soon after, he left the film business and founded the Anti-Recidivism Coalition (ARC), an organization aimed at reducing incarceration and improving the outcomes of formerly incarcerated individuals. Film industry heavyweights like directors Steven Spielberg and Patty Jenkins called Budnick, wanting to get involved. Kim Kardashian West texted Budnick, asking how she could help. President Barack Obama invited Budnick to serve on the board of his foundation, My Brother's Keeper Alliance. In 2014, ARC started with three staff members and a budget of $300,000. Today, there are 70 employees and a budget of $8 million.
"I saw that everyone I brought inside a prison—no matter if they were conservative, liberal, law enforcement, victim, clergy, whatever they were, no matter what they thought their entire life—when they sat face to face with a human being, they ended up changing," explained Budnick. "Proximity, as Bryan Stevenson from Just Mercy always talks about, really changes people, and that's how you change the world."
Budnick crossed paths with Stevenson, who is the executive director of the Equal Justice Initiative, a human rights organization. Stevenson wrote the book Just Mercy, based on his experiences as a lawyer defending low-income clients and the wrongfully accused.
Later at an event, Budnick had a long conversation with one of the people who led the effort to get the Marriage Equality Act passed. Budnick asked him what the game-changing moments were. His answer was simple: Will & Grace, a television show about two friends, Will, a gay lawyer, and Grace, a straight interior designer. Budnick had a lightbulb moment. Shows like Will & Grace, Modern Family and Ellen, and movies like Brokeback Mountain—"softened people's hearts" about what love could look like, Budnick explained. "It's undeniable how culture shapes policy and how culture shapes peoples' thinking—good or bad. Why was I not using the tools in the toolbox I had access to?" Budnick decided he could "scale up the heart and mind changing part" by pairing the storytelling aspects of film and television with real-world impact campaigns.
How art can change hearts and minds
Budnick founded One Community, a film, television and digital content co-financing company. By choosing relevant content that creates maximum impact, One Community aims to change hearts and minds around the issues of equity and equality. Its first project was the film Just Mercy, based on Stevenson's true story of working to save a wrongly convicted black man on death row in Alabama. Budnick wanted to run an impact campaign that "spoke to everybody," he said. Not just to people that thought like he and Stevenson did.
"We know that we need to move conservatives and folks who are not aligned with the progressive movement," he explained. Budnick held private screenings of the film for 15 governors—both Republican and Democrat. After each screening, he and the official would talk about what that governor might be able to do legislatively. "Now we're running bills in several states with governors who saw Just Mercy," he said.
Budnick also did screenings for NBA teams. When several teams asked to do more, One Community created "Play for Justice," where players from teams such as the LA Lakers and Milwaukee Bucks visit prisons to play basketball with incarcerated men—and have meaningful conversations in hopes of having an impact on them. Several of the teams Budnick worked with have "adopted" prisons. One of those teams, the Milwaukee Bucks, was the team that led the NBA boycott after Jacob Blake was shot seven times in the back by a white police officer in Kenosha, WI, right outside of Milwaukee. Budnick continues to advise the Bucks as well as the Milwaukee Brewers, the city's major league baseball team, and the Green Bay Packers, on "strategy, tactics and next steps" about how best to be involved. "Those relationships we made on Just Mercy were incredible," Budnick added. "I think being able to use power to lift up the voices of those that have none is crucial."
One Community has a dozen or so projects in development, including the Ben Affleck-backed King Leopold's Ghost, a film based on the best-selling book about Belgian king Leopold II's ravaging of the Congo and the Congolese people that sparked one of the first human rights movements in history. Budnick met Affleck at a conference, who suggested he read the book. Budnick did and soon after, One Community bought the rights to the film.
During the Goizueta event, Budnick fielded questions from the audience supplied by Emily Ferguson 21BBA. In addition, he reminded the Zoom audience that his journey began with a first, semi-random step: he spent two hours in a creative writing class in a juvenile detention center in 2003.
"Everyone has the ability, whether you care about homelessness, about kids in foster care, whether you care about education and the education system—whatever it is—to get proximate and touch someone's life," he said. "Take the first step, sign the petition, show up to a class, mentor somebody, talk to your company about their HR practices: If we make them check the felony box can they not be hired? Is that right?"
Along the way, Budnick, who was named California Volunteer of the Year by Governor Jerry Brown in 2012, helped several laws pass in California which guide young people sentenced to death in California on a path "to transform and come home," said Budnick. One of those bills meant that the 300 years to life sentence levied on David, the young man Budnick first met in 2003, was now a 25 years to life sentence. Not long after, Governor Brown commuted David's sentence. This fall, David, who is now in his 30s, will go before the parole board. He could be home by Christmas.
With everything going on in the world today, Budnick remains optimistic. "If I can believe a young person that was a gang member who committed a violent crime can change, I believe that a company can change and a culture can change, but it's up to employees, the shareholders and the consumers to make sure that's the case," Budnick explained.
When asked about the film industry specifically, Budnick's optimism continued: "When we have people with diverse backgrounds, not just in the business for diversity sake, but really in positions of power at major companies, that's when a sea change happens—and we're starting to see it."
For more on this installment of the Learning & Leading: Goizueta Distinguished Speakers Series watch the video recording above or click here.