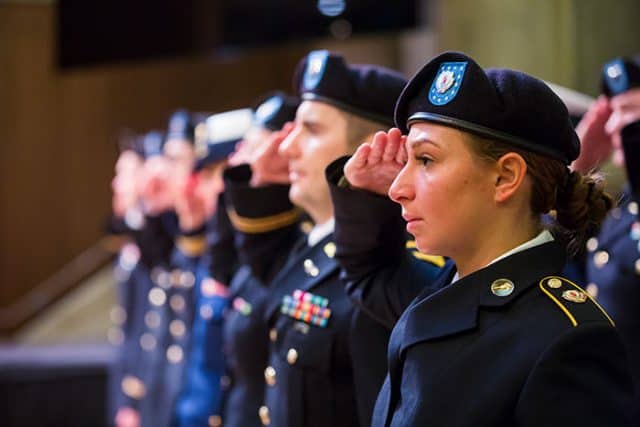 All faculty, staff, students, and alumni are invited to Emory's annual Veterans Day commemoration on Thursday, November 11, at 11 a.m. on the Emory Quadrangle.
The event will include a flag ceremony with Emory veterans and ROTC cadets. The guest speaker this year is Max Hilsman, a U.S. Army veteran who is the executive director and private wealth management regional manager at Morgan Stanley. Hilsman, who also leads veteran recruiting for Morgan Stanley in Atlanta, has a history of mentoring veterans during the transition from soldier to civilian.
Jeff Rosensweig, associate professor of finance and director of The Robson Program for Business, Public Policy, and Government, will return for the fifth year as master of ceremonies. The program will start with a salute to the flag during the national anthem. Then, at 11:11 a.m. there will be a moment of silence for Armistice Day, which marks the end of World War I hostilities at the 11th minute of the 11th hour of the 11th month. The ceremony will close with the "Armed Forces Medley" followed by refreshments.
"For me, [Veterans Day is a day] to reflect upon my service, but more importantly all those who I have had the privilege to serve with," says Lt. Gen. (Ret.) Ken Keen, associate dean of leadership development and senior lecturer of Organization & Management.
Keen came to Emory in 2013 after 38 years of service in the U.S. Army. He has given his time to veteran support initiatives on campus and beyond.
"Emory University and Goizueta Business School have been instrumental in my transition to civilian life," notes Keen, who also advises the Goizueta Veterans Association. "Most impactful for me has been the opportunity to continue to serve others and especially work with young people aspiring to lead and create a positive impact on business and society."
One of those leaders is Isaac Olsen 22MBA, who served as an Army officer for 10 years. Olsen, who grew up near the Canadian border in Presque Isle, Maine, joined the military after graduating from Liberty University in Virginia. He enrolled in the MBA program last year and says he found a place to belong in the Goizueta Veterans Association, where he's currently president.
"We're making a hard transition from a somewhat insulated world, and the Veterans Association establishes support and community," says Olsen, who also serves as the Veterans Day ceremony coordinator. "Having people I can connect with as I grow and evolve is important to me."

Isaac Olsen 22MBA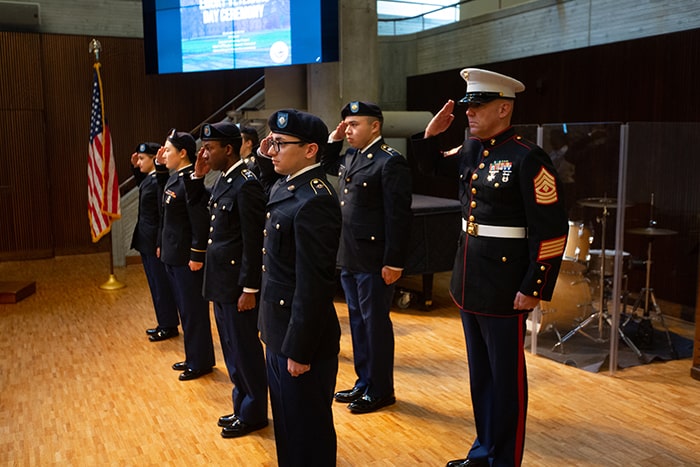 Emory's Support for Veterans
Through the Yellow Ribbon program, Emory provides funding to help post-9/11 veterans pay for educational expenses beyond what is covered by the GI Bill.
Undergraduate students planning military careers can participate in Army or Air Force ROTC through a cross-enrollment agreement with Georgia Tech. Students complete their undergraduate degrees at Emory and military training at Tech.
The Emory Healthcare Veterans Program, part of the Emory Brain Health Center, provides expert, collaborative care for post-9/11 veterans and service members dealing with a variety of mental health concerns, including post-traumatic stress disorder (PTSD), traumatic brain injury, military sexual trauma, depression and anxiety. Treatment options include outpatient and intensive outpatient programs which integrate care in multiple areas including psychiatry, neurology, sleep, rehabilitative medicine, wellness, and family support.
Emory is one of 18 nursing schools nationwide selected for the elite Veteran Affairs Nursing Academic Partnership (VANAP) through the U.S. Department of Veterans Affairs. Undergraduate and graduate nursing students selected for the program gain valuable training in providing quality care for our nation's veterans.
The Emory Law Volunteer Clinic for Veterans provides pro bono legal services for veterans, assisting them and their families with legal issues including disability claims before the Veterans Administration and subsequent appellate proceedings, estate work and discharge upgrades before the Department of Defense.
For more information on how Goizueta supports veterans and to learn more about the Goizueta Veterans Association, visit here.
This article was written by Kelundra Smith for the Emory News Center.