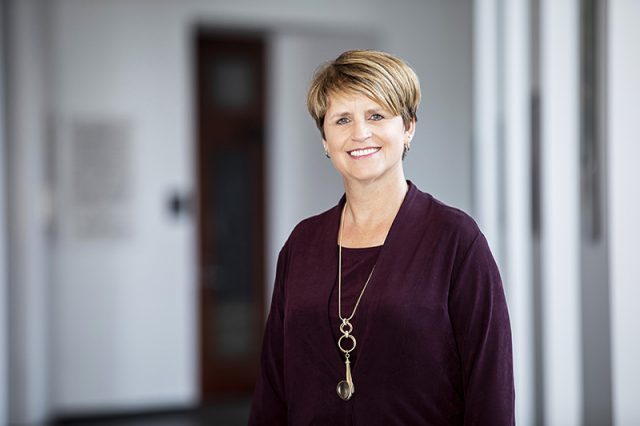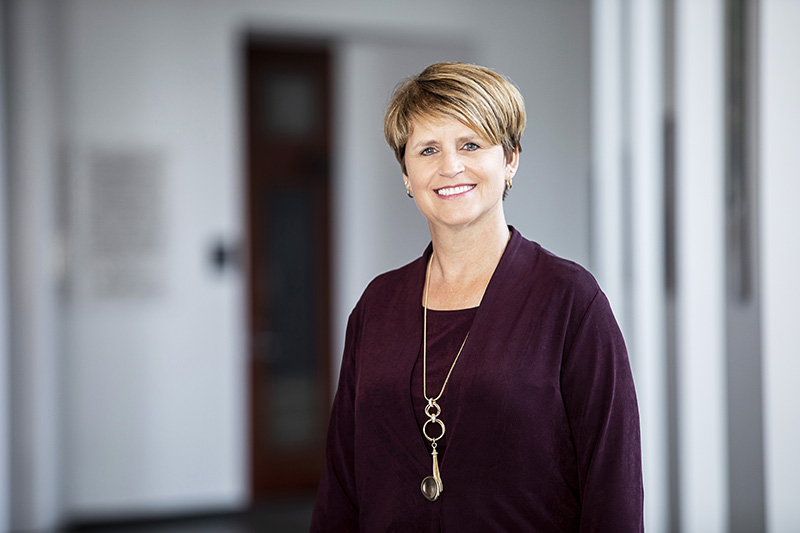 As the Interim John H. Harland Dean of Goizueta Business School, Karen Sedatole has faced innumerable and unprecedented challenges to the familiar phrase "business as usual." Appointed in May of 2020 and succeeding Dean Erika H. James, Sedatole took the helm of Goizueta at what was to become the most significant tipping point around the world in generations.
At the turn of 2020, a mysterious illness we now know as COVID-19 began to grip the world with life-altering fear, sparking "what if" questions that challenged experts. A public health emergency was declared, air travel was restricted, case numbers rose, and the world officially entered a pandemic by March of that year.
With tensions high, just days before Sedatole's role as interim dean was to begin, George Floyd was murdered while in police custody in Minneapolis, setting off a prolonged period of national racial unrest and difficult conversations.
Sedatole has said, "At Goizueta, we work to reimagine and redefine a different, better way of doing business to solve the world's greatest challenges with ingenuity, integrity, and grit."
These truths were clear. As one of the best business schools in the nation, Sedatole guided Goizueta students, faculty, staff, and alumni through the chain of events and remained steadfast in her principled leadership. During her tenure, the once familiar day-to-day campus routine morphed into something more responsive, flexible, and innovative.
"Karen has a deeply empathetic spirit, and that perspective has informed all her decisions as our interim dean," says Julie Barefoot, interim chief of staff and associate dean of engagement & partnerships.
With a heightened focus on critical conversations and program adaptability, Sedatole guided the launch of a comprehensive remote learning solution to ease the impact of the pandemic. Emphasizing student experience, she listened to the ever-changing needs of her community and adjusted protocols as necessary. Barefoot adds, "She has focused on maintaining our school's strong culture during the pandemic and created a more equitable and inclusive community."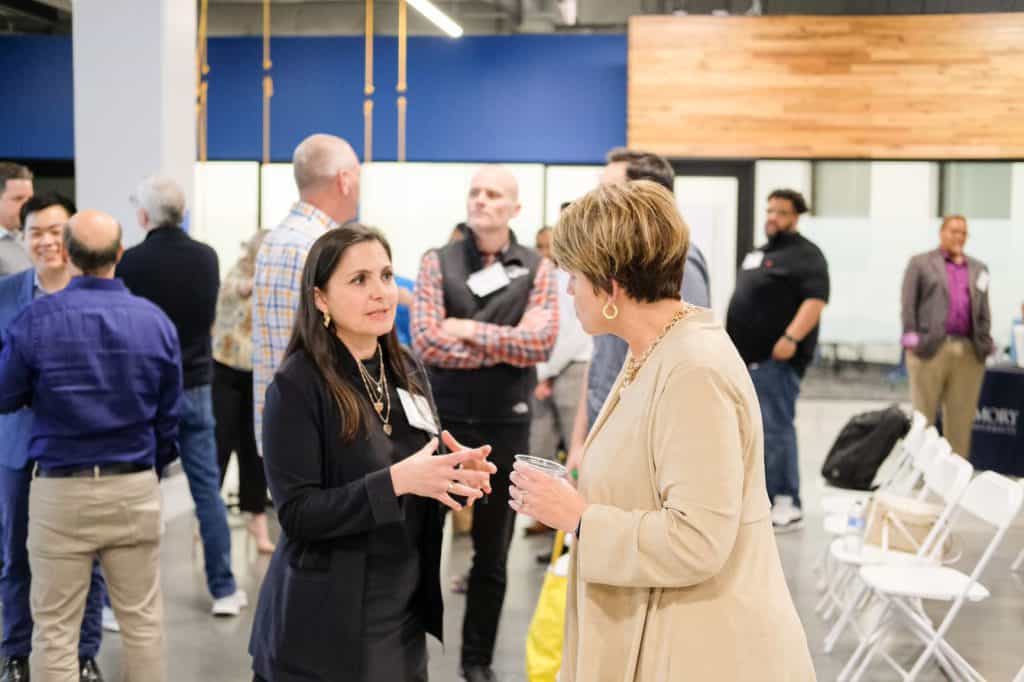 Moving Goizueta Forward by Expanding Student Experiences and Programming
Sedatole led the organization during the transitions of the present but always had a laser-focused eye on the future, including how to elevate the student experience and attract the best and brightest to our school. Last year marked the launch of three next-generation global classrooms on campus to enhance digital learning, eliminate the limitations of geography, and allow for classes to engage with global business leaders. Real-time polls, breakout room options, whiteboard technology, and engagement analytics enable faculty to be highly responsive and flexible. With Sedatole's guidance and support, Goizueta also invested in the development of hologram-like technology and augmented and virtual reality projects to create dynamic and interactive student experiences.
"Karen made numerous courageous decisions – acting quickly and confidently – that made an impact on the school and business community," says Jill Perry-Smith, senior associate dean of strategic initiatives and professor of Organization & Management. "She said yes, when many others may have said no, leading to meaningful programming, such as the Peachtree Minority Venture Fund and John R. Lewis Racial Justice Case Competition."
Alongside Sedatole's support and guidance, the John R. Lewis Racial Justice Case Competition (JLCC) was launched to invite national collegiate teams to address vital issues of racial inequity in business. Inspired by its civil rights namesake, the student-run JLCC entered its second year in 2022, with more student leaders consulting for major corporations seeking to drive social change. The competition is focused on examining how companies can address racial injustice within their organizations and in society. This year, students expanded its scope by engaging in deeper partnerships with top business schools across the country.
During this event, Sedatole shared, "In all of my years of academia, this competition represents one of the most poignant examples of the power of student voice and the unbreakable intersection between business and society."
As a visionary, Sedatole also supported leaders throughout the kickoff of two major initiatives: The Roberto C. Goizueta Center for Entrepreneurship & Innovation, which offers multi-disciplinary and cross-vertical experiences to develop the entrepreneurs, intrapreneurs, investors, and innovators of tomorrow; and the Business & Society Institute, which reflects the school's elevated commitment to social impact and seeks to transform business to solve society's challenges.
"Dean Sedatole was also instrumental to the launch of the Peachtree Minority Venture Fund (PMVF). The idea for the fund was proposed by a team of MBA students. Although the idea was compelling, the path to implementation was unclear," says Robert Kazanjian, Asa Griggs Candler Professor of Organization & Management and academic director of The Roberto C. Goizueta Center for Entrepreneurship & Innovation. "She identified the needed capital and facilitated a thorough-but-rapid series of administrative reviews and approvals. The PMVF exists today due to her commitment to the idea and her willingness to see it through to full implementation. We greatly appreciate her support and active engagement."
Sedatole continued her focus on expanding academic and co-curricular offerings with personalized experiences that prepare students to thrive in and drive toward the future of business. During 2021, Goizueta launched the Master of Analytical Finance degree, which enrolls its first class in Fall 2022. Led and designed by Wall Street professionals, the program offers hands-on experiences to support next-gen careers in sales and trading, investment management, fintech, and investment banking. Goizueta also announced a new online format of its Executive MBA program–the highest-ranked EMBA nationwide to offer an online option.
"It is with great esteem that I acknowledge the many contributions of Interim Dean Karen Sedatole to Goizueta Business School and Emory University. Her ability to enhance the Goizueta student experience and strengthen the school's connection with the community while leading the school through a pandemic is greatly appreciated," Emory Provost and Executive Vice President of Academic Affairs Ravi Bellamkonda shared recently. "Dean Sedatole has been an integral part of our student flourishing initiative, and we owe her deep appreciation for her leadership during this critical period for Goizueta Business School."
Sedatole will pass the torch to Goizueta Business School's new dean, scholar, and researcher Gareth James on July 1, 2022. Learn more about our next leader here.