So far in his college career, Shaan Bhasin 25BBA 25C has marked his time at Goizueta Business School with a desire to make an impact and an inclination to embrace the unexpected. Bhasin's chance encounter with two students living on the same floor, who shared his desire to revolutionize studying, would soon become the catalyst for his latest venture.  
Bhasin, an international student from Budapest, Hungary, who is pursuing his Bachelor of Business Administration in organization and management at Goizueta and double majoring in psychology and linguistics at Emory College of Arts and Sciences, is also co-founder of Eightball, an application that provides a suite of study services powered by artificial intelligence.
Our mission is to be an indispensable tool powered by AI that empowers and helps students study—not do their homework or be a cheat sheet.

Shaan Bhasin
"We do that by providing retention driven tools," Bhasin says.
One of Eightball's tools is a flashcard feature, which enables students to upload their class notes or other files they wish to study—the application then transforms these study materials into flashcards designed to reinforce understanding of key concepts.
Dorm Room Entrepreneurs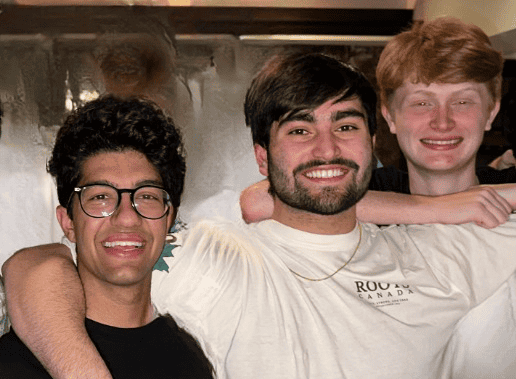 Eightball originated from a conversation Bhasin had with hallmate and co-founder Karam Khanna 25C during finals in fall 2022. The two students found themselves discussing the AI boom and how they wished they had better study materials; they felt tools such as Quizlet and Chegg were not assisting their learning.
Over winter break, Khanna began tinkering with AI tools and created the first iteration of Eightball's flashcard tool. He sent it to Bhasin, who recognized the power and possibilities of the product, and, upon returning for the spring 2023 semester, the pair began using the tool to study. They soon realized just how useful the application was.
We decided to really start harnessing this because if Karam and I were benefiting a ton from it, we figured Emory students would love it and even more students around the U.S. would see the power.

Bhasin
The pair next brought in Karam's roommate, co-founder Ben Craver 25C, to help them with digital marketing. As Karam spearheaded building the technology, which is powered by the software GPT—the same software that powers Open AI's ChatGPT—Bhasin and Craver brainstormed launch initiatives. They spent three months completing beta testing and released Eightball to the public in April 2023.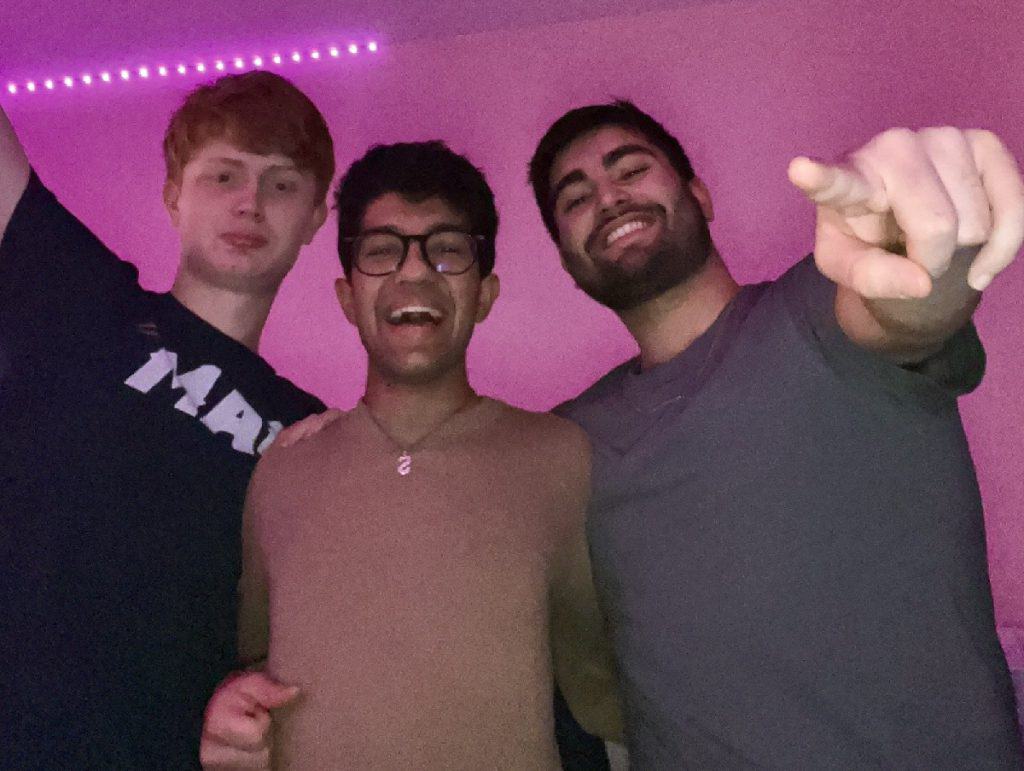 Bhasin and Craver began to spread the news about Eightball to the Emory community, enlisting the help of two campus ambassadors who created social media content, including a Tik Tok account that received more than 65,000 views. Their efforts have generated more than 1,500 international users, more than 100 of whom were active daily during finals season. Bhasin says Anna Errore, assistant professor in the practice of information systems and operations management, encouraged her ISOM 350 class to use Eightball as an extra credit assignment.
Bhasin says the growth experienced during the spring semester helped the team pinpoint places for improvement and revealed that many Emory students were excited to bring the power of Eightball to college campuses across the country.
Victory at Pitch the Summit Competition
The trio entered Eightball into Emory's "Pitch the Summit" competition—the culminating event of the school's annual Entrepreneurship Summit—ultimately taking home the grand prize of $10,000 and catapulting their platform to greater campus recognition. After the competition, Bhasin says Andrea Hershatter, senior associate dean, BBA program director, and creator of the summit, helped connect the group to Emory alumni entrepreneurs.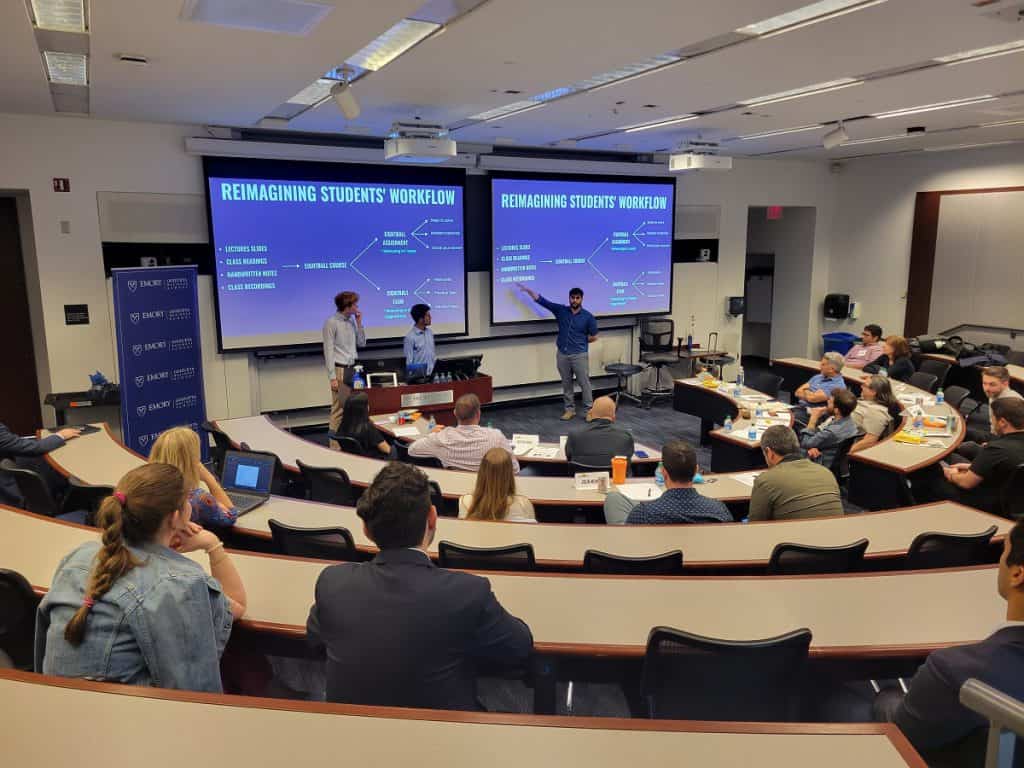 "The pitch summit was one of the most transformative weeks both personally and professionally," Bhasin says. "It was a great deal of learning."
Bhasin says the group pulled an all-nighter refining their pitch and practicing their presentation in front of friends, who gave them feedback that allowed them to refine their work. During the event, he says they received feedback from the judges at each round, which they took to heart, and it ultimately won them the competition.
Forging the Path Forward
As Bhasin navigates college, he says community support has helped him forge his path and find what he loves to do.
When the startup came into my life, my family, friends and mentors were like, 'You have to chase this if you love it.' That foundation of people and that level of support I received for something that is an unconventional path was incredibly encouraging. 

Bhasin
Bhasin says the opportunity to make an impact is what drew him to the Atlas Consulting Group, which works hands on with local clients such as Porsche and the Atlanta Hartsfield-Jackson Airport. Bhasin says he hopes to make an impact outside of Emory this summer investing in early-stage startups at a venture capital firm in Atlanta and building products at a high growth financial wellness startup.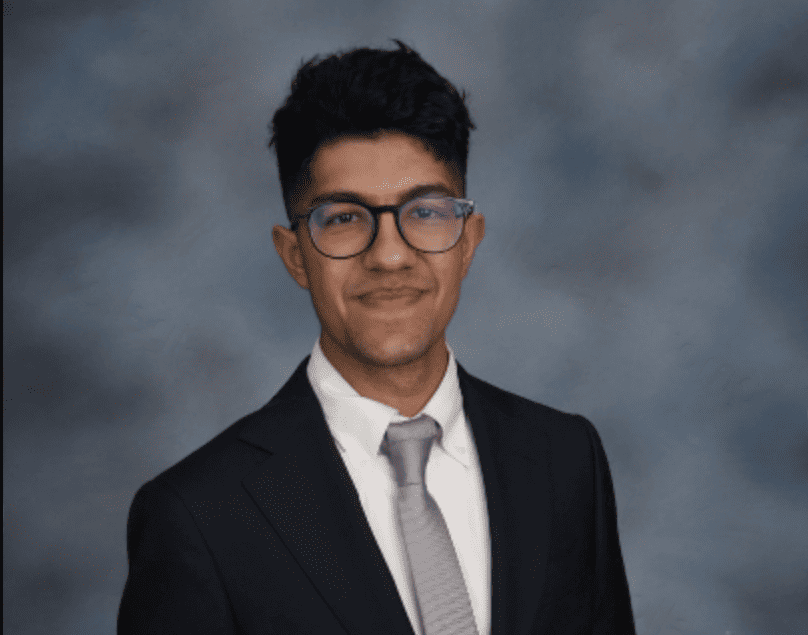 He says the team has yet to tap into Eightball's full potential. Soon, they hope to grow the application by expanding across U.S. college campuses through an ambassador program and social media initiatives. They also plan to add new features, including an AI teaching assistant that users can ask questions.
As for AI, Bhasin says it has the potential to empower people globally, but it must be harnessed ethically.
"On the individual level, on the governmental level, and on the societal level, we need to understand and be very conscious and very responsible about artificial intelligence," Bhasin says. "I firmly believe AI will profoundly change the social and professional landscape." 
Interested in pursuing a business degree? Learn more about the unique programs Goizueta has to offer.