By Nicole Golston and J. Michael Moore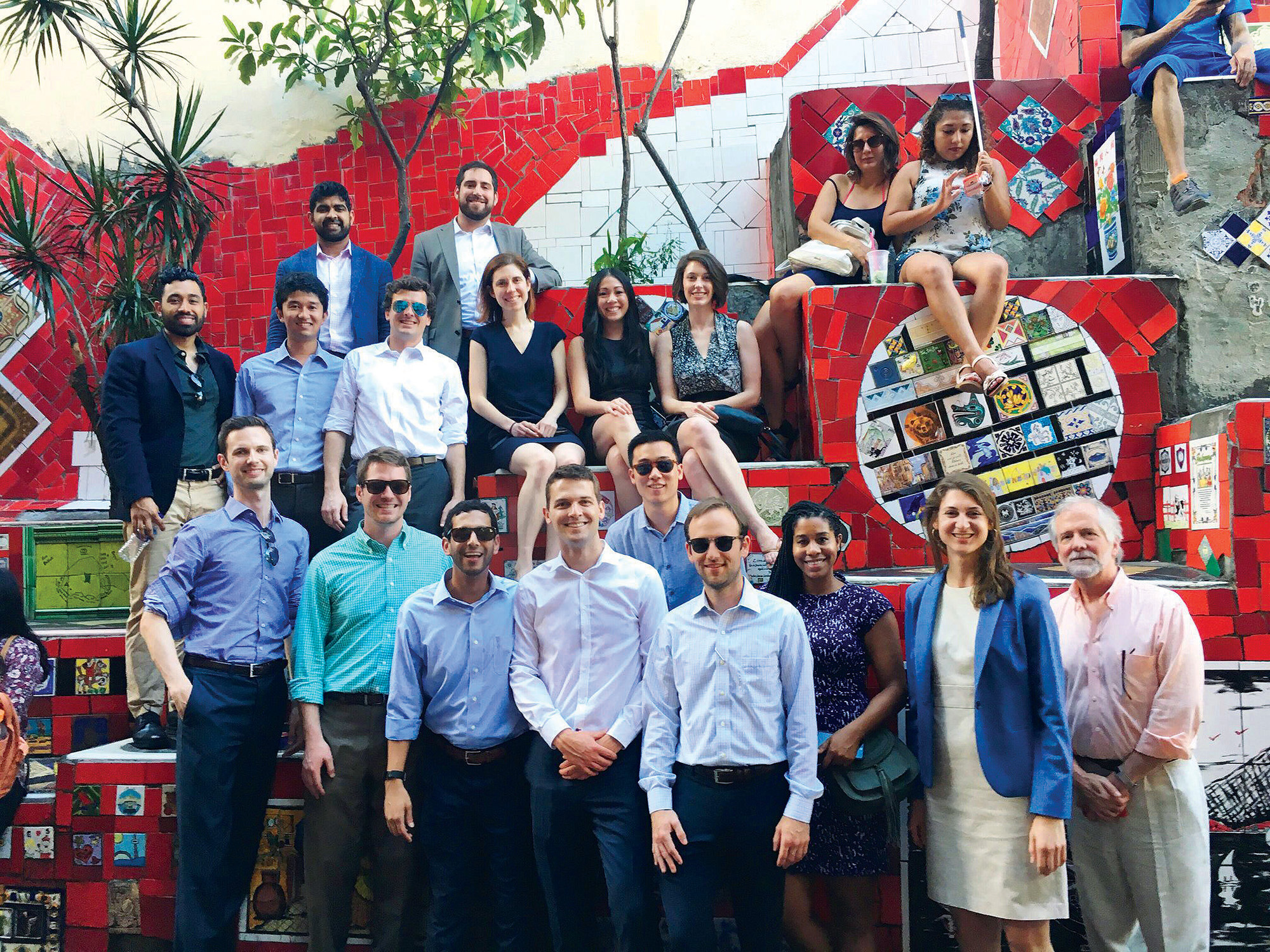 Proper exposure to international business requires multiple lenses. Yet one resource sometimes overlooked is the international elements across the university. Goizueta's Dean Erika James, with an eye toward collaboration, has challenged the school to create more opportunities to prepare for international immersion and partner across campus.
James launched the school's new strategic plan in 2017, which includes eight focal points crossing the needs of business, students, and scholarly research. While not specifically targeted in the plan, an international approach remains table stakes for successful business practice, and James intends to expand the influence of Goizueta's strategic plan by exploring global collaborations in each of the eight focal areas.
James is deeply aware of the continued influence and impact of global business. Not only do students interact with foreign partners, they are hired by multinational firms.
"There is nothing new about globalization; no one even talks about it anymore," James says. "In fact, companies expect that students will be on global teams or will interact with an international clientele. I want to make sure we are doing all we can to prepare students for an increasingly interconnected world. While advances in technology and transportation make the world smaller, it is still a melting pot of rich cultural differences and varied business norms. Our students can't afford to not be aware of as much detail as possible."
The landscape for international involvement is quite deep. Since becoming dean, James has traveled to Tokyo, Seoul, and Singapore, engaging alumni and meeting some of the school's international business partners, like Samsung, LG, The Norinchukin Bank, and Daiwa Securities.
Expanding international intentions
Emory University has sought to improve its impact abroad as well.
In 2015, Philip Wainwright 85C 85G, vice provost for global strategy and initiatives, along with a task force of university representatives, including Goizueta's L.G. Thomas, released a report on the university's standing called Global Vision for Emory—a five-year plan to expand Emory's reputation worldwide as a leader in international scholarship and service.
The plan reflects the university's expanding international connections.
In 2002, only 19 percent of scholarly publications at the university had an international coauthor. That number is now more than 33 percent. The number of international students on campus has grown to 20 percent.
The task force also focused heavily on the growing realities of business globalization. According to the report, "A modern university is inherently global in reach. In a world of increasing interdependence and diminishing borders, global engagement is no longer a peripheral concern but a necessity." With James and the university on a similar trajectory, how best to make the MBA international experience more impactful?
Indeed this was a question Brian Mitchell 00MBA/MPH, associate dean of the Full-Time MBA Program, was also pondering. Prior to becoming associate dean, Mitchell was a healthcare executive in charge of managing international partnerships. Navigating this rich landscape was often clouded by a lack of cultural awareness by a partner or a member of Mitchell's team.
"I have experienced first-hand how a country's culture and history influence the way business is done," notes Mitchell. "I want all of our MBA students to benefit from that insight prior to their travel."
This experience left an impression, and Mitchell eagerly reviewed the university's plan on international presence and scope. Then he reached out to Wainwright and discussed the report, seeking ways to incorporate the objectives with the students he oversees. He drafted a proposal, then met with Dean James to rally for support.
James was already evaluating the school's international perspective and commissioned Mitchell to revisit the global strategy, keeping what works and expanding in ways that will keep Goizueta strong on the international stage.
"I firmly believe an international experience should do more than transport you physically to a location. A truly meaningful experience should teach one as much about him or herself as it does about living in another country or culture," James says. "Our colleagues at Emory have this nuanced perspective and, if shared, would provide a more robust experience for students."
Across campus, across borders
With a clear charge and expanded title as associate dean of global strategy & initiatives, Mitchell sought first to leverage the university network in order to bring cultural awareness alive for students.
"As we discussed the student element of the global strategy, we saw a real opportunity to offer an interdisciplinary aspect of teaching culture, history, and language before our students actually go and immerse themselves in another part of the world," Mitchell says. "These courses would be taught by experts at Emory."
Thus began extensive conversations with professionals across campus, including Wainwright; Michael Elliott, dean of Emory College; and Jeffrey Lesser, a chaired professor of history and director of the Halle Institute for Global Research and Learning. Lesser is an expert in modern Latin American history, focusing on ethnicity, immigration, and race, especially in Brazil.
Brazil is one of five target countries identified in the Emory strategic plan, along with India, South Korea, China, and Ethiopia.
"When we think about what we do here in the business school, where we spend resources and where we have expertise, Brazil, India, South Korea, and China also are on the top of the list," Mitchell says. "Goizueta also has a lot of activity in South Africa and Colombia. Then there are countries where our faculty are very active and where we have significant strength, like social enterprise in Nicaragua."
Colombia and Brazil are constants in MBA travel. As discussions with Wainwright and Lesser progressed, the structure of how culture and history could be taught to graduate students took shape.
A pilot program formed quickly.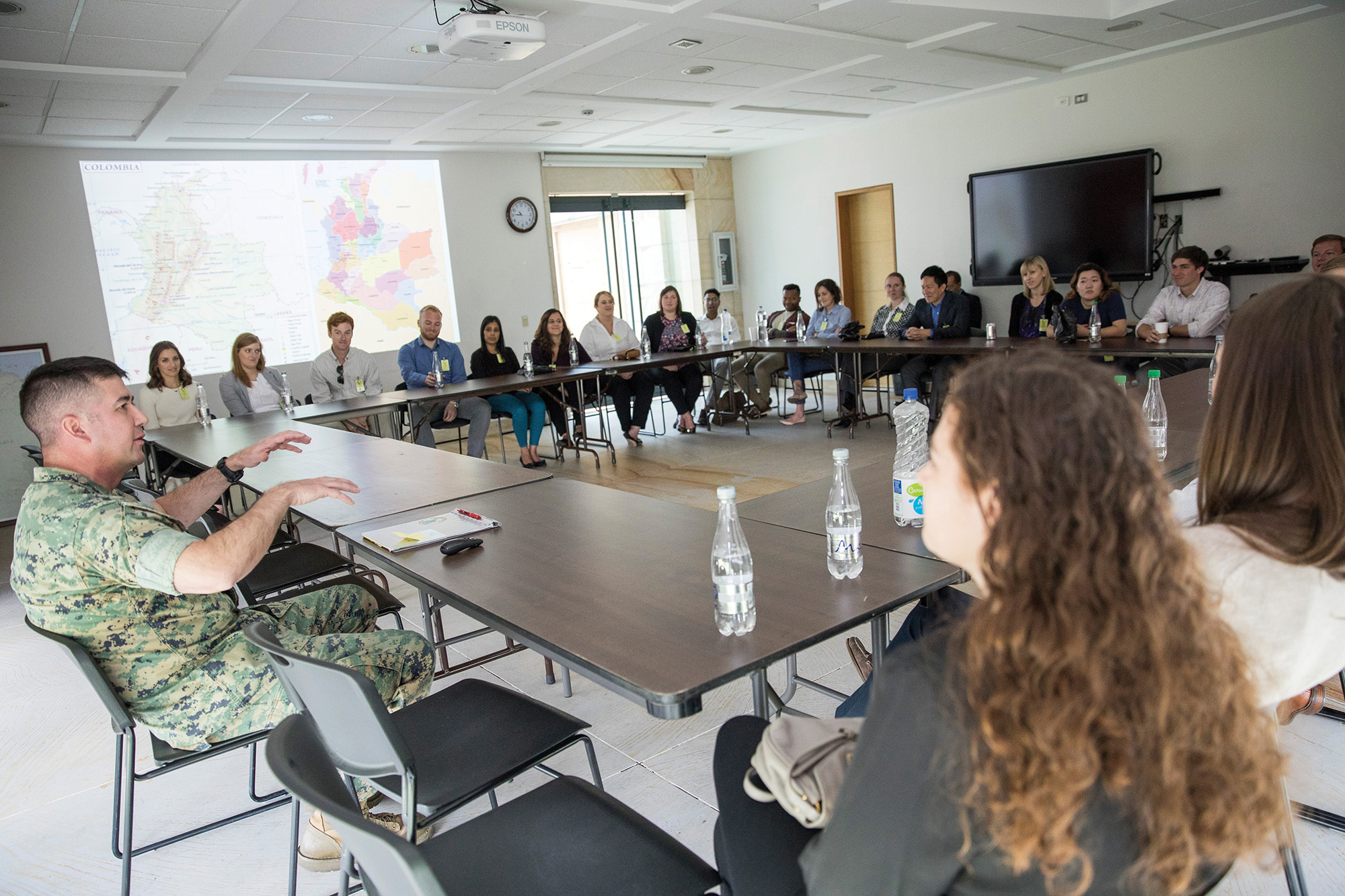 Ahead of traveling to Colombia last fall, several one-year students took a pre-departure seminar from Rebbecca Kaplan, associate director of MBA admissions and instructor in the Department of Spanish and Portuguese, where she leads the department's business Spanish curriculum and teaches on intercultural communication. The six-week course was interactive and upbeat and introduced students to important aspects of Colombian culture via language instruction, with discussions of food, geography, and industry.
"I aimed to give the students the vocabulary I thought would most broaden their experience in the country, such as knowing how to order soccer tickets, make a reservation, or haggle in a market, to go out and explore the country and engage with its people in a way they might not have otherwise," Kaplan says. "In addition, in the process of analyzing Colombian pop songs and other texts in Spanish, students learned that Colombia is a geographically, racially, and economically diverse country, a theme that appeared at every pass of our stay, be it our visit to Kimberly-Clark, Colombia or the US Embassy in Bogotá or ProColombia, the country's tourism bureau."
The pilot extended to cross-campus collaboration with a full-time students' trip to Brazil in early 2018. Lesser selected two colleagues to craft a six-session pre-travel course: Ana Catarina Teixeira, director of Emory's Portuguese program with research and teaching interest in postcolonial and cultural studies, and Thomas Rogers, an associate professor of modern Latin American history (with a focus on Brazil). The co-teachers built off their expertise in history and language to offer students a bridge from the classroom to Brazilian culture.
For Andrew Kupka 19MBA, the sessions exceeded expectations.
"I thought these sessions would be more logistical in nature, but they provide a much richer conversation," he says. "Plus, this is the first time I've had that level of culture and history before going on a trip. I really appreciate the access to the faculty and exposure to different perspectives and history from people who have been there and lived there."
"Our goal for the class was for students to understand one core truth about Brazil, which actually applies to almost any given country: it is a complicated and multilayered place whose complexity reveals a rich history and a vibrant actuality," Teixeira notes. "If they understand that and grasp some of the basic contours of the country's history and the contemporary moment, we're happy."
Once in São Paulo, Patrick Noonan, professor in the practice of decision & information analysis, led students through the traditional business segment of the trip, including rigorous company visits to firms such as Natura Cosmetics, Brazil's number one cosmetics manufacturer; Foxconn, a major electronics developer and manufacturer; Bank of Brazil; and Logicalis, a provider of IT solutions and managed services.
Pre-travel lectures changed the experience.
"The sessions around Brazil's economic environment and social inequality were very helpful and informative," Gonzalez says. "Our professors did a great job outlining the current state of the Brazilian economy and highlighting the country's socioeconomic challenges."
Gonzalez, formerly of Liberty Mutual, worked with supported Central and South American countries prior to enrolling in the MBA program. He said the trip helped him make sense of the unethical actions he noticed.
"At the time, I didn't fully understand why there was so much bribery and corruption in the region," he says. "I assumed it was strictly part of doing business. However, now that I've had an opportunity to meet with CEOs and vice presidents in Brazil, I have a better grasp of how the system works. Corruption and bribery in the region isn't solved as easily as I once thought. To make a change, there would have to be drastic changes in the culture, not just the business environment. Looking back at my experience, I would have been more understanding and less critical."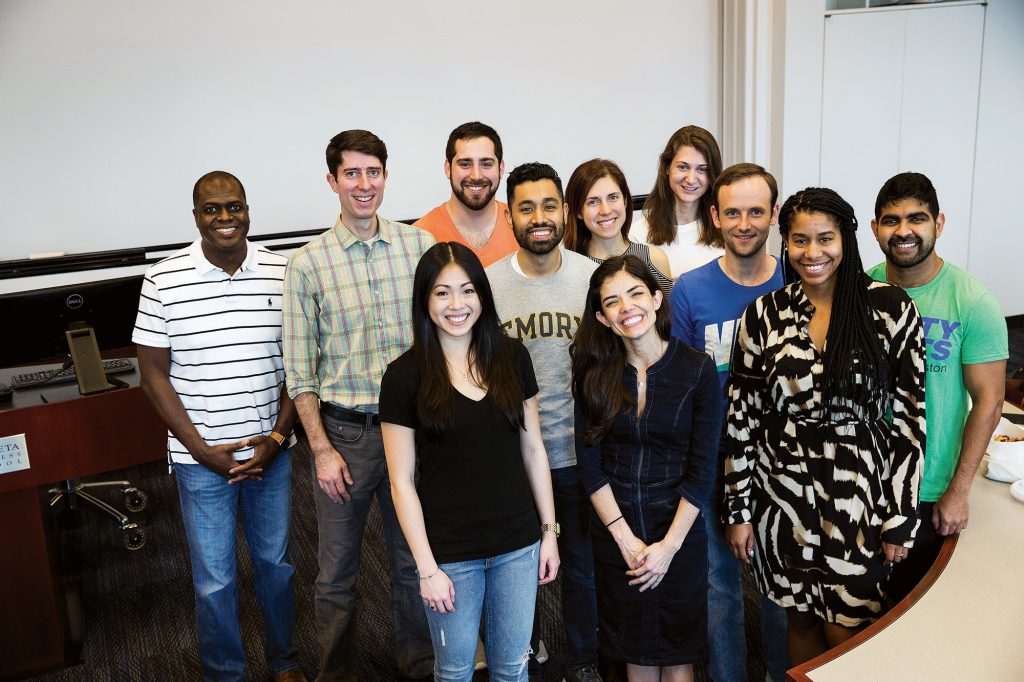 "Ultimately, exposure to society, history, and language is to help students show up with a level of empathy when visiting a new country," adds Mitchell. "When you show up with that increased level of empathy, it helps your learning, understanding, appreciation, and ability to lead in that context. Instead of just showing up and going 100 miles an hour, you enter with an appreciation for how this environment came to be: from the political, historical, and societal aspects."
As with any pilot program, Mitchell plans a review process to judge effectiveness and scalability. Identifying Emory experts for different parts of the globe will be key. Mitchell also stressed the importance of student experience and marrying such pre-travel work with strategic initiatives. A weightier portion involves building upon the dean's goals for the school and extending reach to other programs and countries.
According to Mitchell, other aspects of the school's global strategy are expected to emerge in the coming months. Still, other portions will take time to research and implement.
Goizueta already partners with more than 100 associations and schools worldwide. The global strategy team, which includes Mitchell, Wainwright, Dean James, and professors such as L.G. Thomas and Jeff Rosensweig, director of the Robson Program for Business, Public Policy, and Government, are seeking to find ways to leverage relationships and find partners.
But with business and cultural dynamics constantly changing, flexibility is key.
"Different business schools handle international trips and focal points in different ways," James says. "We are in a unique city with access to the entire world. I want to take advantage of that. One way is to send students to as many places as possible. Perhaps this means more, shorter trips that fit inside the curriculum. This strategy will evolve but, for one, I'm happy to see collaboration in the university that allows for a deep, swift dive on culture and allows for trips overseas to be all the more beneficial."