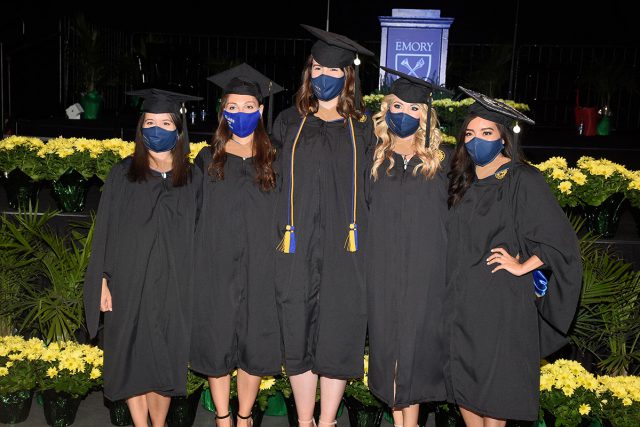 Emory University hosted Commencement ceremonies in-person and via livestream for the Class of 2021 at the Georgia World Congress Center (GWCC) May 14 – 16 in accordance with health and safety protocols. A ceremony to celebrate the Class of 2020 was held on May 15.
After a tumultuous year of uncertainty, compassion, and hope, Goizueta graduates from each of the school's undergraduate and graduate programs celebrated the milestone moment of their Commencement, heralded by the Atlanta Pipe Band as is Emory tradition.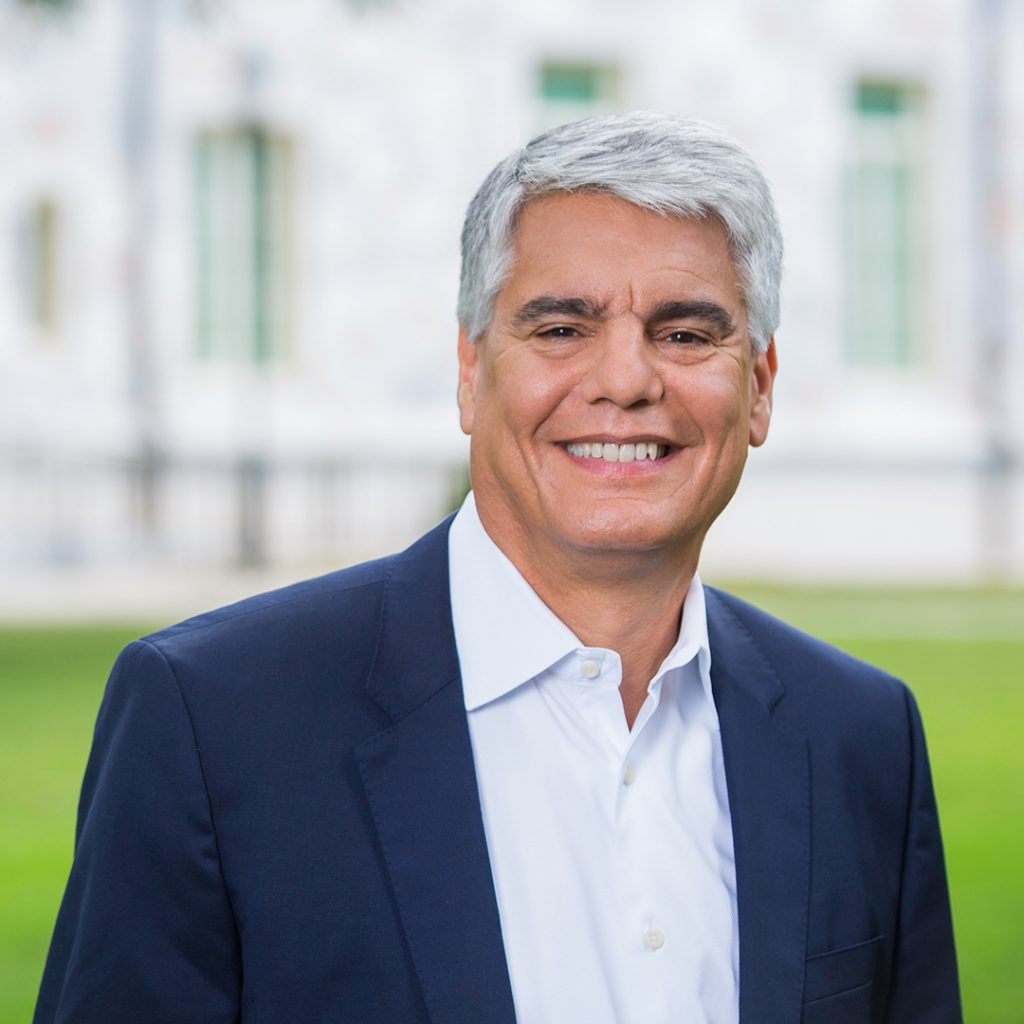 To mark the occasion of this year's Commencement ceremonies, Emory University President Gregory. L. Fenves recognized the "remarkable, resilient Class of 2021 and the Class of 2020." About them he wrote, "These graduates have overcome unprecedented challenges to learn, grow and discover. I'm excited about the bright future that is ahead of them, and I can't wait to see all they will accomplish as alumni of Emory University."
Goizueta held diploma ceremonies for students in programs including BBA, Evening MBA, Executive MBA, Full-time MBA, and Master of Business Analytics. A special Commencement ceremony was held for the Class of 2020, whose celebration was held virtually last year due to the pandemic.
John H. Harland Interim Dean Karen Sedatole acknowledged recent student experiences. "What surprised me most and made me most proud – is how much we've found together. We've found trust and teamwork. We've found flexibility, prioritized what's most important to us, and found a renewed commitment to shaping the world around us," she said. "This perspective, the skills you've gained, and the experiences you've had will stay with you. And I'm confident that they will make you a stronger team member, a stronger leader, and a stronger global citizen."
Upon conferring the degrees, Fenves cited, "Graduates … you are charged with conducting the world's business with integrity and skill. You are the drivers of innovation, helping to expand the boundaries of what can be achieved in commerce, trade, finance, technology, accounting, and more. As leaders and entrepreneurs, you enter an ever-changing marketplace … with the training and experience to make a powerful impact on society."
Dr. Anthony Fauci Receives Emory University President's Medal
President Fenves wrote, "Only five individuals have received both an honorary degree and the Emory President's Medal—President Jimmy Carter, Congressman John Lewis, His Holiness the Dalai Lama, Dr. William Foege, and Ambassador Andrew Young. Dr. Anthony Fauci will join that short list of iconic figures, and we couldn't be prouder." Fauci received an honorary degree from Emory in 2003.
President Fenves wrote, "During the past year, Dr. Fauci's name has become synonymous with truth, clarity, and medical expertise. As chief physician to our country in the midst of a pandemic, he has become one of the most trusted voices in medicine for millions of Americans, and we are excited to honor him as part of Emory's 176th Commencement."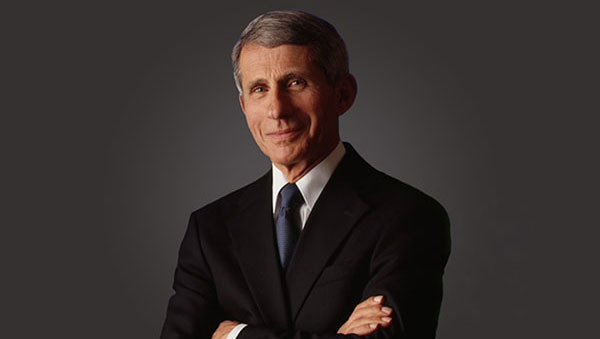 Due to the COVID-19 pandemic, Fauci addressed the graduates and guests virtually as he shared insight into recent events. "This has been an extraordinary, challenging, and difficult year. I have had the opportunity and privilege to be part of the public health and scientific response to the COVID-19 pandemic. This global health crisis has changed the landscape of all of our lives," he said. "Such times call upon all of us to work together."
He continued, "If there are any lessons that we have learned from this pandemic, they are these. One: science will provide the solution to this pandemic as we have seen with the rapid and successful development of multiple safe and highly successful vaccines. Two: societal divisiveness is counter-productive in a pandemic. We must not be at odds with each other since the virus is the enemy – not each other. Hopefully, as we move forward, our collective commitment, tireless efforts, passion, and resilience will help us achieve a successful end to this unprecedented public health emergency."
With wisdom gained from years of service to the public health of the world, Fauci noted, "Only by working together with our partners in academia, industry, and the community will we be able to rapidly achieve this goal and be prepared to respond to future infectious diseases and outbreaks. Once again, thank you so much for this great honor."
Fenves concluded, "Emory's motto, 'the wise heart seeks knowledge,' is exemplified by Dr. Fauci's many decades of public service," Fenves says. "Indeed, it is his wise heart, and the knowledge he has provided, that have helped us get through a year like no other."
For more Commencement memories, stories, and ceremony details, and videos, please visit commencement.emory.edu. To view the Emory Commencement program, visit here. With insight from the Emory University Historian Gary Hauk 91T, read about the history of Commencement at Emory in "The Feast of Reason and the Flow of Soul."