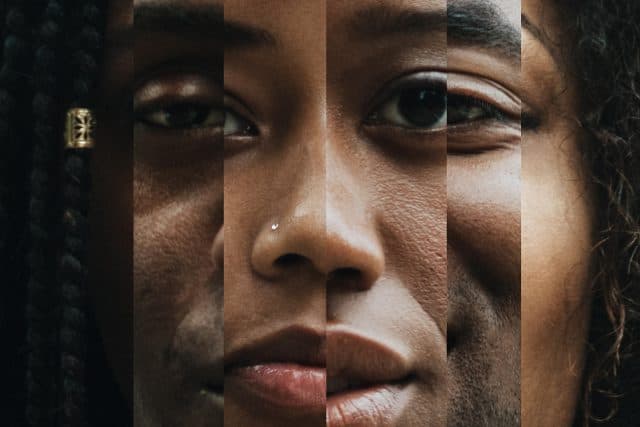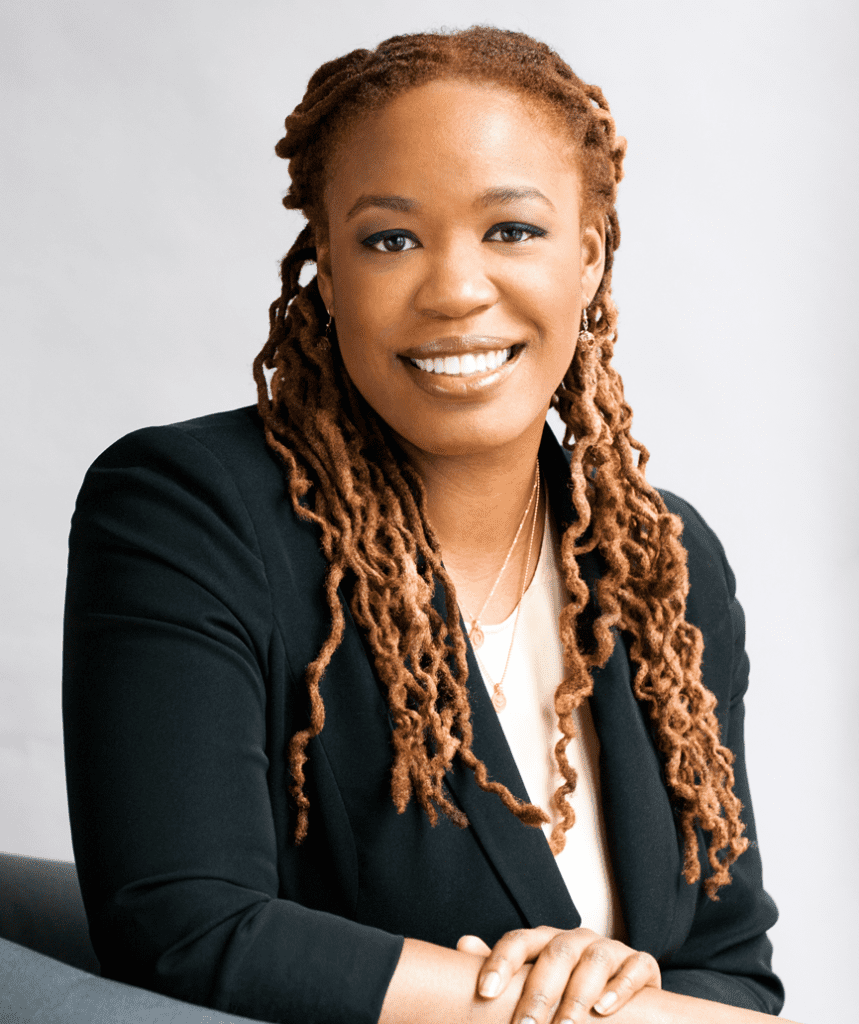 Goizueta's Common Read program provides a forum for self-education and a safe space for honest dialogue for those seeking to be allies. Through books, faculty, staff, alumni, and students explore a range of topics including understanding stereotypes and unconscious bias, becoming effective allies, and developing anti-racism mindsets. The current common read is "The Sum of Us: What Racism Costs Everyone and How We Can Prosper Together" by Heather McGhee who will join an Emory-wide virtual community event on November 10, 2021. The Common Read program is managed by Goizueta's Diversity, Equity, and Inclusion Committee.
Ash Meenakumari Shankar 23BBA chose Goizueta Business School to prepare himself to create more equity for people of color in business. In his view, business leaders have been too comfortable with the status quo and look for convenient solutions to problems.
"I fundamentally believe that businesses have the ability to create lasting equity," Shankar said. "This book brings up the uncomfortable and inconvenient questions that we in business need to confront."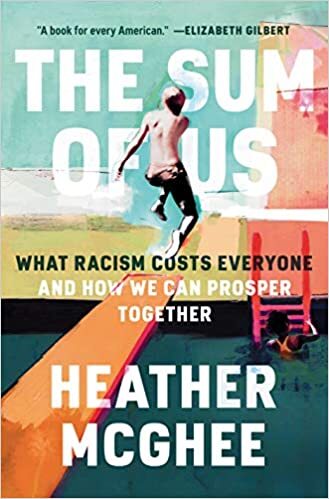 Shankar is among the 300 Goizueta students, staff, and faculty who are reading and discussing the bestselling The Sum of Us.
"This shared reading has only reminded me of why I chose Goizueta," Shankar said. "I am so glad that McGhee's message has been received positively here. The classes and resources we have at Goizueta are working to remove these barriers. With greater knowledge and dialogue, we can create permanent equity at Emory and in the Atlanta community."
McGhee's book explores themes that demonstrate the communal, global benefits when people come together across race to build an equitable future. The November 10 event, "The Sum of Us: An Emory Community Conversation with Heather McGhee," is free and open to all in the Emory community including students, staff, faculty, alumni, and community partners.
Common Read Program Draws Campus-Wide Participation
Lead organizer Allison Kays, assistant professor in the practice of accounting, said 100 Goizueta students, professors, and staff are in the small groups, and another 200 are reading the book on their own. Of the 300 readers, 32 are faculty, 61 are staff, and the rest are students.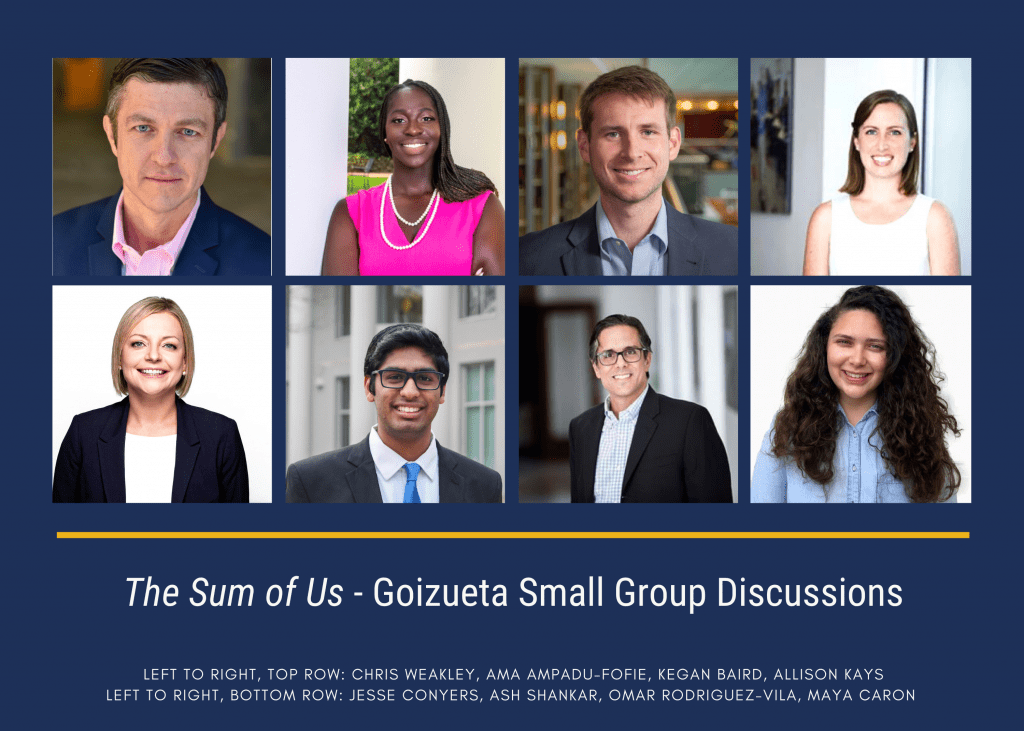 "I'm encouraged and excited by the response across the business school, from BBAs to the deans," said Ama Ampadu-Fofie, director of diversity, equity, and inclusion.
"We're having discussions as a family, treating each other as family, and creating spaces to have sensitive conversations together. That's what I wanted us to walk away with: open gateways to have difficult and uncomfortable experiences with people who look different from each of us. I want you to know about my experience and I want to know about yours."

Ama Ampadu-Fofie, director of diversity, equity, and inclusion
Principled leadership, diversity and equity were priorities when Jesse Conyers 24EvMBA chose her graduate program. Her most meaningful experience with her student cohort has been the book and discussion group.
"Participating in this common read on racial injustice in America affirms my decision to choose Goizueta," said Conyers, an Emory physician radiologist.
"I have gained a deeper understanding of the history of structural racial hierarchy in America, the zero-sum mentality that frames and perpetuates these systems and the impact on contemporary racial inequality. I have learned from the unique and shared experiences of my colleagues and gained an understanding of the systemic impact of racism and discussed potential solutions. We consider how, as McGhee writes, to become strategic partners in the fight for a racially just America."

Jesse Conyers 24EvMBA
Discussions Deepen as Perspectives are Shared
For Goizueta faculty and staff, The Sum of Us follows their fall 2020 reading of Whistling Vivaldi: How Stereotypes Affect Us and What We Can Do. Kays teamed with Brian Goebel, managing director of The Roberto C. Goizueta Business & Society Institute, Lt. Gen. (Ret.) Ken Keen, senior lecturer of organization and management and associate dean for leadership, Brian C. Mitchell, associate dean for full-time MBA programs and Goizueta Global Strategy and Initiatives, and Melissa Rapp, associate dean of MBA admissions, to choose The Sum of Us, and secure sponsorships from Emory Advancement and Alumni Engagement, Emory Global Health Institute, Emory Law, Laney Graduate School, Nell Hodgson Woodruff School of Nursing, and Emory School of Medicine.
The zero-sum paradigm was a key discussion point for Maya Caron 23BBA. "Just because one government program helps a certain population does not mean that it takes away any opportunities from someone else," she said. "It was insightful hearing from everyone in our diverse group. We all valued and acknowledged our differences."
Chris Weakley 22BBA, a former Army explosive ordinance disposal officer, shared his experiences growing up in southern California.
"Being a little bit older than most of my classmates, I've been exposed to a little bit more of history," he said. "I specifically talked about the 1992 riots after four policemen were acquitted of beating Rodney King. For me, the discussion was an eye-opening juxtaposition between Jim Crow era laws, the Los Angeles riots, recent police brutality headlines, and reading The Sum of Us."
The discussions have helped Kegan Baird 22MBA to his goal of personal growth in business school by meeting people from around the world.
"This initiative shows why Emory is such a great place to grow," said Baird. "The book and corresponding discussions have taught me that it is important to dig deeper and understand the root causes of societal issues to ensure you aren't unknowingly perpetuating any issues and are equipped to solve these issues and better society as best you can. It has been great to learn and hear the perspectives of others that have experienced these issues in different ways than I have."
Sustainability over Shortcuts?
For Kays a main takeaway from the book is the powerful business choice of sustainability over shortcuts. She teaches two theories of the firm: shareholder theory and stakeholder theory. The former is the more widely recognized theory and states that the purpose of a firm is to maximize returns to shareholders. The theory relies on a zero-sum mindset and argues that if a corporation focuses on any other stakeholders, it is taking away from shareholders' returns. Stakeholder theory, however, ties in well to McGhee's book, which argues that there can be a powerful solidarity dividend for all when returns are maximized to everyone connected to the firm, including the employees, suppliers, customers, and the communities in which the firm operates.
"When you invest in employees and the communities you serve, that may reduce profits in the short term, but long term it should lead to higher profits because you are building more loyalty and allowing space for development and creativity."

Allison Kays, assistant professor in the practice of accounting
"Business has a really important role to play in reducing inequities," agreed Omar Rodríguez-Vilá, the academic director of education for The Roberto C. Goizueta Business & Society Institute. "Not just as business leaders in our companies, but how we look at the marketplace and to what extent are we paying attention to the needs of the communities we are serving?"
His discussion group worked on identifying ways to take action.
"There is definitely a point in the dialogue where it's easy to feel that you don't have power; the issue is so complex and pervasive, what can I do?" he said. "We discussed making that very micro: What can I do in my class? Do I speak up when I see issues? What types of leaders and cases are we learning from? When we left the room, I feel there was a collective sense that there is power in our individual actions."
Register today to take part in this important conversation.