In February, Goizueta held its 11th annual Diverse Leadership Conference, welcoming former Georgia-Pacific and Medtronic executive James Dallas 04MBA as keynote speaker. Dallas, author of Mastering the Challenges of Leading Change: Inspire the People and Succeed Where Others Fail, encouraged students to step outside their comfort zones to learn about other cultures in order to build stronger teams and become better leaders. He told attendees to prepare for criticism and skepticism, but encouraged them to be "door openers," saying, "You have to be willing to set yourself apart to bring people together."
In addition, the conference featured panel discussions on topics related to this year's theme, "What Unites Us is Greater than What Separates Us," and a digital update from speaker James Andrews, entrepreneur and former vice president of Ketchum Digital.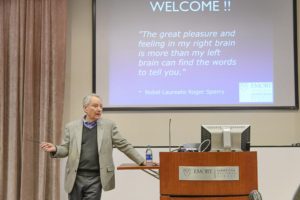 February also saw the return of the Undergraduate Business School Leadership Conference, which hosted student leaders from 23 top-tier business schoolsfrom points across the United States and as far as Spain, Mexico, Germany, and the United Arab Emirates. The keynote was given by Rick Gilkey, professor in the practice of organization & management and professor of psychiatry and behavioral sciences at Emory's School of Medicine. Gilkey spoke about the importance of self-awareness and cognitive and emotional intelligence in business leaders. Students also participated in an interactive session on crisis management, led by Dean Erika James and Ken Keen, associate dean of Goizueta's leader development program and a retired lieutenant general.
In March, Goizueta hosted The Science & Art of Sports Business: An Emory Goizueta Business Analytics Forum. Faculty members served as moderators for panelists from an illustrious list of companies, including the Atlanta Braves, Atlanta Hawks, The Coca-Cola Co., Experience, Turner Sports, NBA Digital, and more. Panels and presentations were focused on sponsorship, customer engagement, and the ever-expanding arena of eSports.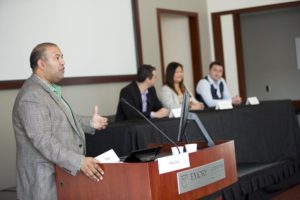 The 6th annual EmoryMAC Conference also took place in March, giving students, faculty, and marketing professionals the opportunity to learn about topics such as mobile marketing, loyalty analytics, and unstructured data analysis. Presenters included Goizueta faculty and speakers from Chick-fil-A, SAS, Converge, and Equifax. Trevis Litherland, principal data scientist for Equifax, discussed how he uses a wide variety of data and patterns to aid the company in creating credit scores. Goizueta professors Michelle Andrews, assistant professor of marketing, and Mike Lewis, associate professor of marketing, presented insights gained from field experiments and talked about why companies might want to use field data instead of just focus groups. Lewis pointed out that existing data from focus groups and other sources can sometimes create assumptions that may not be true. "I think it's very important that once in a while we check ourselves and say, 'Let's do these field experiments, let's generate new data, let's treat marketing as a learning organization,'" he said.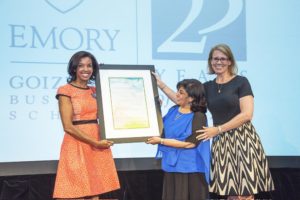 The Goizueta Marketing Strategy Consultancy (GMSC) marked its 25th year in March. At an event celebrating the anniversary, GMSC faculty advisor Reshma Shah, associate professor in the practice of marketing, was honored for her 20 years of leadership. What began as a marketing competition has evolved into a cornerstone of Goizueta's experiential learning program. Sanibh Aryan 16MBA says GMSC students get to tackle "real-world problems and provide solutions to the world's biggest firms while being supported by the school and the faculty in our endeavors." Aryan says the experience includes the highs and lows of teamwork and great satisfaction when the client is happy with the results.
"GMSC was by far the most beneficial class I took at Goizueta," adds Brian Berkowitz 16MBA. "A real-world, multi-month engagement, the GMSC process furthered my leadership development, improved my client relationship skills, and made me ready for day one of my consulting internship."