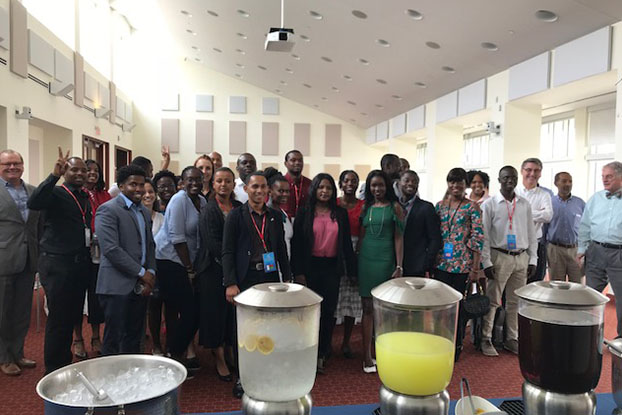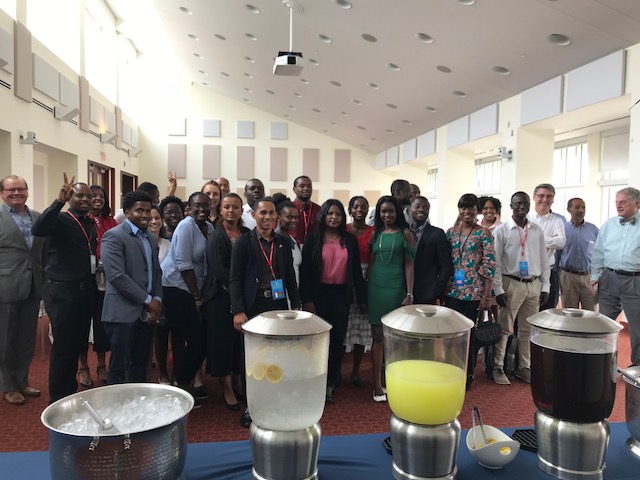 During the fifth annual Young African Leaders Institute, or YALI, 25 professionals from 19 countries stepped foot inside the Delta Leadership Hub at Goizueta to learn more about the school's curriculum and culture.
"This is one of the most exciting days for us at Goizueta because not too often do we have so many professionals from Africa," Director of Human Resources and Diversity Alicia Sierra said welcoming the group. "You all are sitting in the Delta Leadership Hub, and you all are leaders. You've been selected for the Young African Leadership Initiative, and it is fitting that you're here today."
The 25 individuals are recipients of the Mandela Washington Fellowship. Launched by former President Barack Obama in 2014, the program selects 500 fellows from an applicant pool of more than 50,000. The fellows are divided among 20 academic institutions in the United States to study one of three tracks: business and entrepreneurship, public administration and civic engagement.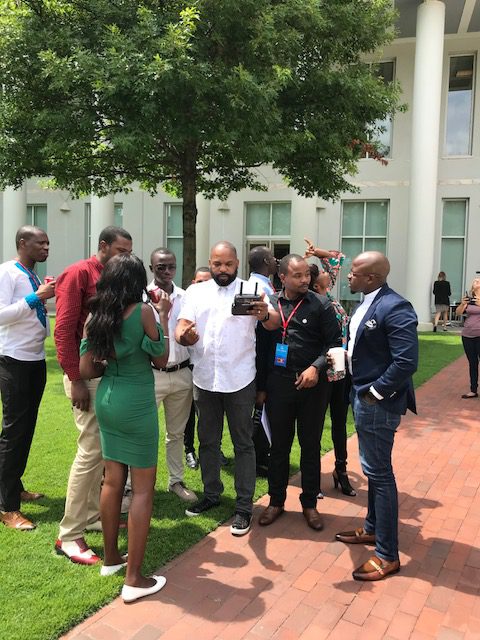 The program provides opportunities for young Africans to enhance their leadership skills and create meaningful ties with American citizens, businesses and organizations, as well as each other.
The trip is part of a program at Clark Atlanta University, and the fellows will continue to visit Atlanta universities and corporations for six weeks.
"I'm always so happy to be hosted on your continent because of that sense of personal renewal I get," Vice Dean of Faculty and Research Kristy Towry said in her opening remarks. "It's really wonderful now for us to be hosting you here. We hope that you touch our soil and feel a sense of personal renewal here."
The day was full of learning, meaningful discussions and key networking opportunities. Alex Chanson, senior account manager with sales at Google, kicked off the day's events with a brief overview of Google and key technologies the company is working on.
"When [Google] designs technology, we try to think about how can we improve the lives of people around us," Chanson said.
Chanson proceeded to show examples of Google Assistant, Google Home and Google's self-driving car company called Waymo.
"The important lesson is to be able to be agile and think where we're going and change the way that we design things for where you want to go," he said.
The group also got to hear from Scott McNabb with the Rollins School of Public Health on the Google Loon in Africa, a project of using large balloons to bring internet access to rural and remote areas.
Dale Tuck, head of strategy, planning and channel development at Atlanta Applied Artificial Intelligence, discussed AI and block chain, and Assistant Professor of Organization & Management Demetrius Lewis gave a talk on social networks.
The day concluded with primary faculty organizer for the event Professor Benn Konsynski discussing technology and commerce futures. Konsynski brought a variety of technologies, such as a Raspberry Pi, virtual reality headsets and drones, for the group to look at and test.
View the Gallery
[ngg_images source="galleries" container_ids="26″ display_type="photocrati-nextgen_basic_slideshow" gallery_width="600″ gallery_height="400″ cycle_effect="fade" cycle_interval="3″ show_thumbnail_link="0″ thumbnail_link_text="[Show thumbnails]" order_by="sortorder" order_direction="ASC" returns="included" maximum_entity_count="500″]