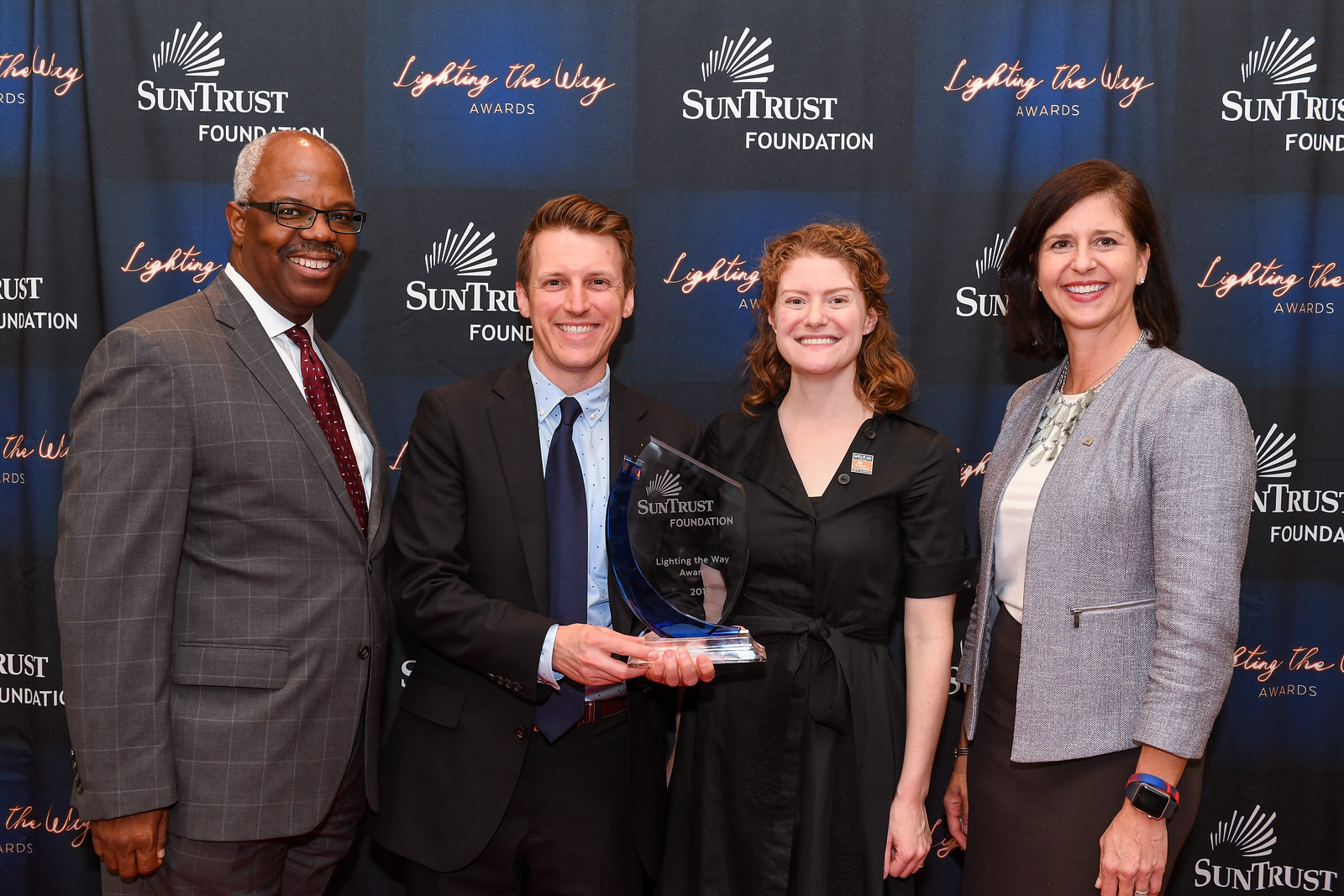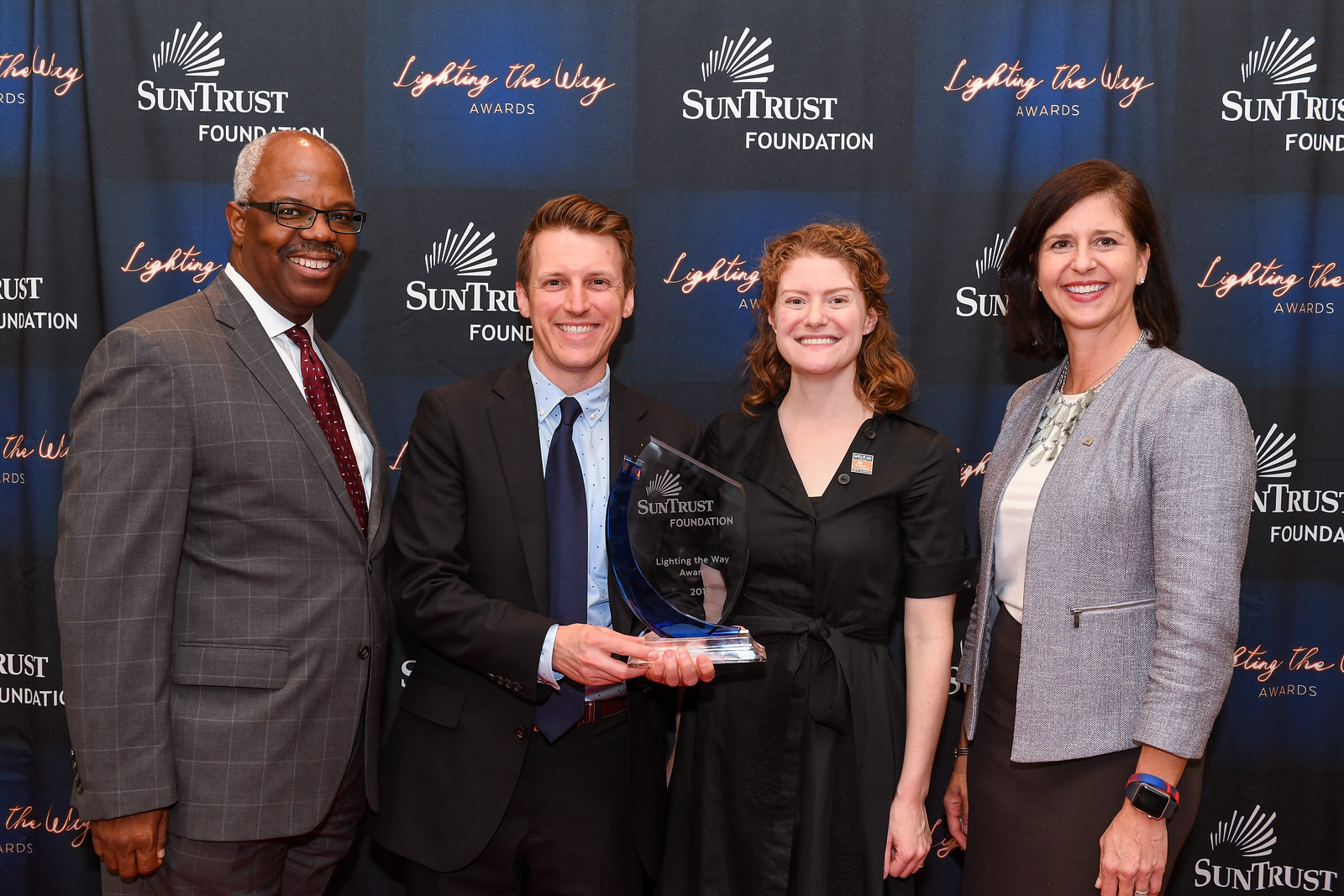 ATLANTA, Aug. 27, 2019 – Recognized for its generous contributions to Atlanta, Start:ME Atlanta was awarded a 2019 Lighting the Way Award and $75,000 grant by the SunTrust Foundation.
The SunTrust Foundation's Lighting the Way Awards recognize select nonprofit organizations that work to build self-sufficient families and more financially confident communities through financial education, financial counseling, career readiness/workforce development and small business/entrepreneurship.
"The SunTrust Foundation is proud to recognize and support our local nonprofit partners that empower and strengthen the communities they serve," said Stan Little, president of the SunTrust Foundation. Start:ME is making a meaningful impact with their programs to improve the financial well-being of the people who need it most."
Start:ME, which operates in three Atlanta neighborhoods. is one of 36 nonprofits across the Southeast and Midwest presented with a 2019 Lighting the Way Award from the SunTrust Foundation, which gave a total of $2.7 million in grants to these nonprofits.
"Small businesses are the lifeblood of our local economy and our local neighborhoods," said Brian Goebel Program Director of Start:ME Accelerator. "This award from SunTrust Foundation along with the commitment their employees make to our program each year as volunteer business mentors demonstrate that entrepreneurship support is truly a team sport.  Since 2013, Start:ME through our community partners Emory Goizueta Business School, East Lake Foundation, Friends of Refugees, FCS, and Purpose Built Schools Atlanta have helped more than 200 of our Atlanta-area neighbors start and grow businesses. With this grant award, we look forward to both investing in ongoing support for our alumni ventures and delivering more 14 session cohort-based programs to new, promising entrepreneurs across Atlanta."
About Start:ME Atlanta
Start:ME is an intensive 14-session, place-based business accelerator program for promising local, small businesses who live in, work in, and/or provide valuable products and services to underserved neighborhoods.  During the 14-sessions, and beyond, the program connects entrepreneurs to the business know-how, mentorship, and funding necessary to build and grow businesses. Start:ME is delivered by Emory University's Goizueta's Business School along with a team of local nonprofit partners including the East Lake Foundation, Friends of Refugees, Focused Community Strategies (FCS), and Purpose Built Schools Atlanta in Clarkston, East Lake, and Southside Atlanta.  To date, Start:ME and its partners have served 208 small businesses which have created or retained 338 jobs with collective annual revenues of $7.9M.
About SunTrust Foundation
The SunTrust Foundation is committed to SunTrust Bank's (NYSE: STI) purpose of Lighting the Way to Financial Well-Being by engaging with local and national organizations to advance financial confidence. Grants and activities focus primarily on financial education, financial counseling, career readiness and small business/entrepreneurship, in addition to local community grants. The SunTrust Foundation supports American Red Cross disaster relief efforts and contributes as a United Way Global Corporate Leader. Established in 2008, the SunTrust Foundation has proudly provided grants totaling more than $170 million throughout the United States.
About Emory University's Goizueta Business School
Business education has been an integral part of Emory University's identity since 1919. That kind of longevity and significance does not come without a culture built around success and service. Emory University's Goizueta Business School offers a unique, community-oriented environment paired with the academic prestige and of a major research institution. Goizueta trains business leaders of today and tomorrow with an Undergraduate degree program, a Two-Year Full-Time MBA, a One-Year MBA, an Evening MBA, an Executive MBA (Weekend and Modular formats), a Master's of Business Analytics, a Doctoral degree and a portfolio of non-degree Emory Executive Education courses. Together, the Goizueta community strives to solve the world's most pressing business problems. The school is named for the late Roberto C. Goizueta, former Chairman and CEO of The Coca-Cola Company. For more information, visit goizueta.emory.edu or follow us on Twitter (@emorygoizueta).
Contacts
J. Michael Moore
404-727-1017
j.michael.moore@emory.edu
Audria Belton
SunTrust Foundation
404-813-3664
audria.belton@suntrust.com