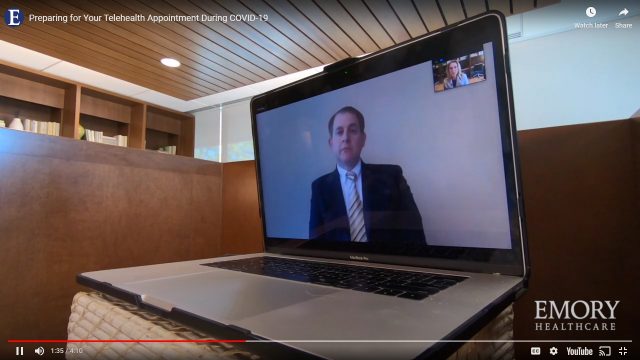 As 2020 began, the world was just waking up to the harsh medical realities of the novel coronavirus known as COVID-19. Goizueta's IMPACT class traditionally takes on one or more real-world business problems to evaluate in cooperation with sponsoring organizations. For the 2020 cohort of students in the MEMBA IMPACT class, "The lines between work and school completely blurred because of COVID-19," said Sarah Kier 20MEMBA, vice president, patient access, Emory Healthcare Physician Group Practices.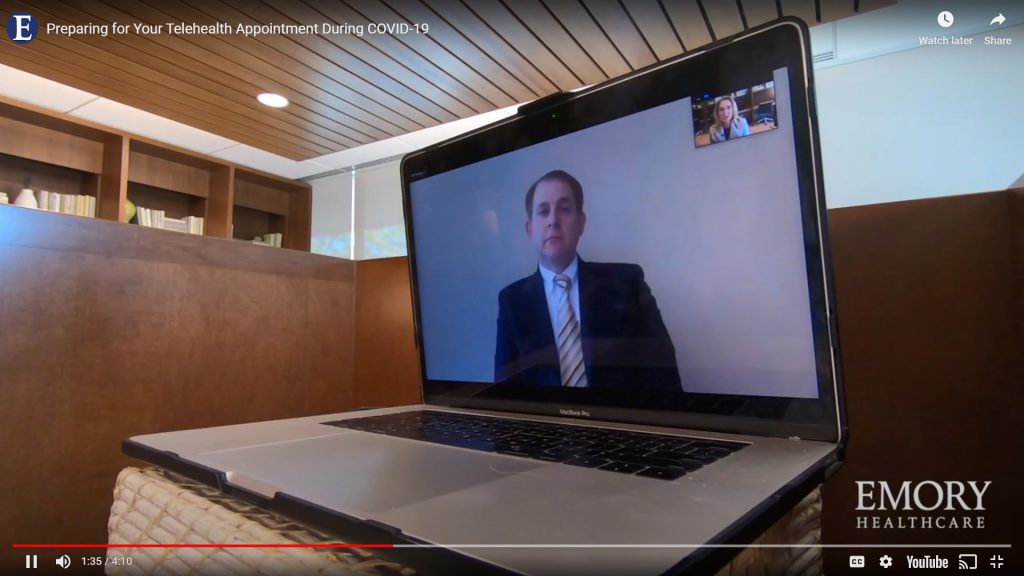 At the time, Kier's cohort was deep into a project for AT&T. "Since more than two thirds of our class touches health care as direct providers, suppliers, physicians, or patient care experts, we quickly pivoted the class focus to analyzing Emory's telemedicine efforts," she said. "We are grateful that AT&T stepped back to allow us to concentrate on this urgent public health crisis."
The emergent project required parameters. Kier noted, "Patients with suspected cases of COVID-19 were flooding the emergency department, increasing exposure risk for other patients and healthcare workers. We still need to minimize community contact. Ramping up patient usage of telemedicine is a powerful measure."
The class evaluated how greater implementation of telemedicine can reduce viral spread. "Our IMPACT project identified methods to take the patient load off emergency rooms, and in turn, reduce person-to-person exposure risk and minimize need for additional personal protective equipment (PPE) by health care workers," Kier said.
Kier's dyad partner Gregory Esper 09MBA, MD, associate chief medical officer at Emory Healthcare and leader of Emory's systemwide telehealth initiatives, noted "We want patients to be able to stay safe in their homes while maintaining access to medical care."  Said Kier, "Telemedicine allows us to take care of our patients and track their health while preserving critical frontline resources such as PPE."
"People have been scared they may have COVID-19. Many didn't have a clear outlet for diagnosis other than to show up as ambulatory patients in the emergency room," said Kier. "IMPACT studied how to leverage telemedicine for those not acute enough to be admitted to the hospital. When patients use telemedicine, we can safely begin with triage and evaluation outside the emergency department setting with recommendations for appropriate testing and follow-up treatment."
Usage of telemedicine in all outpatient care across Emory's Physician Group Practices has soared in recent months. "Prior to March 16, next to no telemedicine was being conducted. By May 1st, more than 50,000 successful audio/video visits have been conducted, with between three to four thousand sustained daily visits since our initial ramp up," Kier said. "Effective deployment of telemedicine has enabled our physicians to provide quality continuity of care during our COVID-19 response."
Preparedness for a future resurgence of COVID-19 during the fall and winter influenza season and prior to the development of a vaccine are also components of the IMPACT class project. "Our business case research made recommendations for future emergences of COVID-19 during the traditional flu and influenza-like illness peaks," Kier said. "As we look ahead, building stronger telemedicine capabilities will allow our health system to be flexible. We need to be able to power on or off programs in response to public health emergencies and seasonal swings of infectious disease."
Goizueta IMPACT Program Solves Critical Issues
With projects to manage for clients across multiple industries, the Goizueta IMPACT class offers experiential learning for MBA students by empowering them to put into practice the theories, frameworks, and leadership skills learned in the program.
When coronavirus emerged in America, "The 2020 MEMBA class demonstrated remarkable leadership when they requested a shift in project focus," said Lynne Segall 99MBA, Associate Dean for Goizueta IMPACT. She noted how IMPACT extends Goizueta's value into the community. "The class inspired me with the way they applied the structured problem-solving skills they were learning to a real-time need with respect to COVID-19."
On May 7, 2020, the full-time MBA IMPACT project teams presented their recommendations at the Goizueta IMPACT Showcase to hundreds of community leaders, business owners, alumni, and faculty judges. Learn more about IMPACT and project sponsorship.
Those interested in making a telemedicine appointment can call Emory HealthConnection at 404-778-7777. For more information about telemedicine appointments visit the Emory Connected Care page at Emory Healthcare.