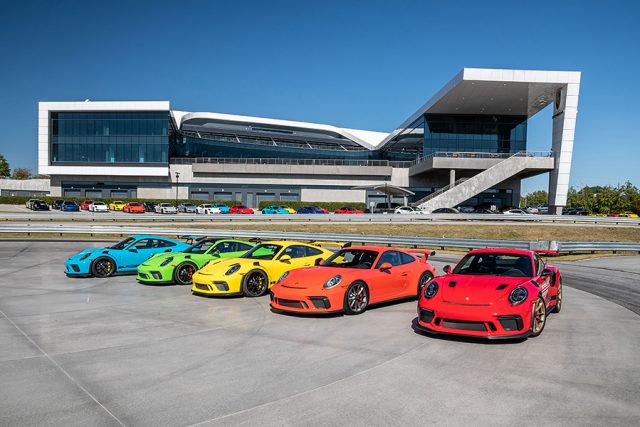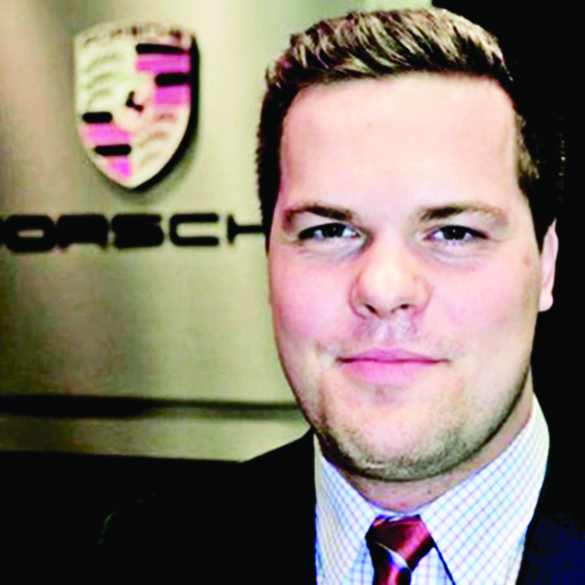 This year Two-Year MBA students participating in Goizueta IMPACT, one of the school's signature experiential learning programs, were in the fast lane with Porsche Cars North America (PCNA). It is the company's first major collaboration with Goizueta thanks to former Goizueta Evening MBA student Alexander De Clerck 21EvMBA, PCNA's corporate business development manager, who served as the client contact. Just a year ago, in the fall of 2019, De Clerck completed his own semester-long Goizueta IMPACT project, which allows students to solve real world problems for real clients, so he felt doubly invested. "It couldn't have gone any better," De Clerck said.
PCNA enlisted three student teams to help with two projects. The first two teams focused on data strategy — how best to utilize Porsche vehicles' sensor data. The third team was tasked with an "Inspirational Storytelling" project: how best to frame Porsche's sustainability efforts to increase the brand's appeal to a younger generation of car buyers.
De Clerck, who described Porsche vehicles as, "wonderful, untapped resources full of data," explained that the data strategy project was an effort to explore "new ideas on how to utilize that data." PCNA challenged the students to provide the company with an actionable data strategy.
"I knew I'd get to leverage a lot of the stuff we'd learned during our Data & Decision Analytics class," said Tom Egge 21MBA who worked with the U.S. Army Corp of Engineers, New England District, before coming to Goizueta.
After working on the projects throughout the spring semester, the teams presented their recommendations to a panel of clients, business leaders, faculty, and staff at "Showcase Day." Twenty-nine MBA student teams worked on 26 projects for more than 20 different clients, but it was the Porsche Intentional Storytelling team that garnered the top prize — Goizueta Gold.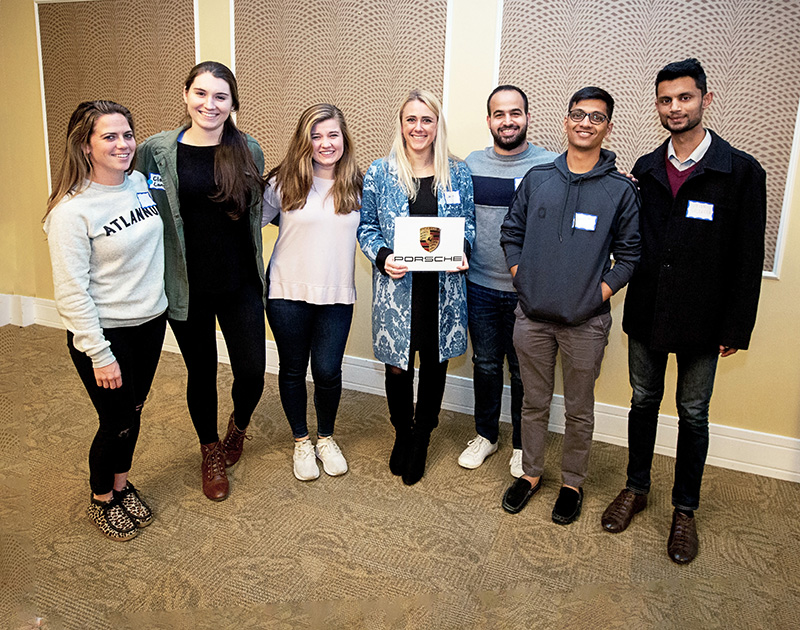 The students on the Intentional Storytelling/Sustainability team (Alexa Newfield 21MBA, Jordyn Hodge 21MBA, Emma Sveen 21MBA, Mustapha Sakr 21MBA, Steven Saldanha 21MBA, and Naveen Srikakulam 21MBA) were all part of the target market Porsche had asked the team to research. By taking a closer look at trends within sustainability, the team was able to suggest nuanced ways that Porsche could make its brand more marketable while simultaneously appealing to young buyers' commitment to the environment. This included suggestions to frame sustainability through the lens of new technology and taking a "peripheral approach" in messaging.
Newfield credited the team's faculty advisor, Omar Rodríguez-Vilá, associate professor in the practice of marketing, with keeping the team on task.
"Having the chance to try and solve a client's problem within your student team – while also having the safety of your professor to turn to with questions – was a great balance between being thrown in the deep end and taking swimming lessons," Newfield said. In addition to faculty advisors, the student teams are connected with current second-year MBA students, who act as mentors.
De Clerck, and team coaches Mette Reichert 22EvMBA and DeHaven Prillerman, were so impressed with the presentations, that they arranged for all three teams to present their recommendations to Porsche's senior management, including Klaus Zellmer, president and CEO of PCNA.
"This was stellar work, both insightful and actionable," Zellmer said. "My take-away from the presentation was that in Goizueta, we had found an impressive pool of talent who contributed real value to evolving our business strategies."
Egge, who was assigned to one of the two data strategy teams says the projects did not come without hurdles. A week after he and other students found out they wouldn't be returning to campus due to the coronavirus, his team was thrown another curveball.
With just three weeks before the projects were to be finalized, his team discovered Porsche had recently implemented one of the recommendations the team planned to present. While it validated the team's thought process, it meant they needed to regroup.
"Our 'big idea' was that Porsche create a data marketplace so that they have a channel to find partners to license their data to, but then we found out they were already doing this, " Egge said. "We pivoted to focus on some next steps, creating a framework that would allow them to evaluate which opportunities were the most worthwhile to pursue. The key was to scope the size of opportunities and determine a customer's willingness to pay for the data. We also wanted to make sure that opportunities aligned with Porsche's brand and strategic positioning."
Elizabeth Hitti 21MBA who was on the second data strategy team, which placed third, says whenever her team attempted to narrow the project focus by asking the PCNA contacts targeted questions, the contacts responded, "You tell us."
"This challenge is very real-world, where the client either doesn't know what they're looking for or doesn't want to pigeonhole your team's thinking, yet they're expecting your team to come in and provide a strong, supported answer."
Hitti, who came to Goizueta from Deloitte where she'd worked as an analyst and a consultant, spent less than a week with her project teammates before meeting with PCNA. On most consulting teams, there is a hierarchy, but with student teams, everyone is a peer. To help figure out what worked best for the group, the team created a "team charter" that included everyone's preferences and expectations. Doing so forced the team to communicate upfront to avoid any later surprises.
"This situation was both realistic and effective, and in our team's case, made us trust and lean on each other quicker than we would have otherwise," said. "I would definitely repeat this process in a future team environment."
Adjunct lecturer at Goizueta and founder of Springboard Strategy, Amy Zehfuss 99MBA, says learning how to communicate with team-mates, and the client, is part of the experience. As a result, students are forced to draw on what they've learned in their MBA courses in order to think critically and to problem solve.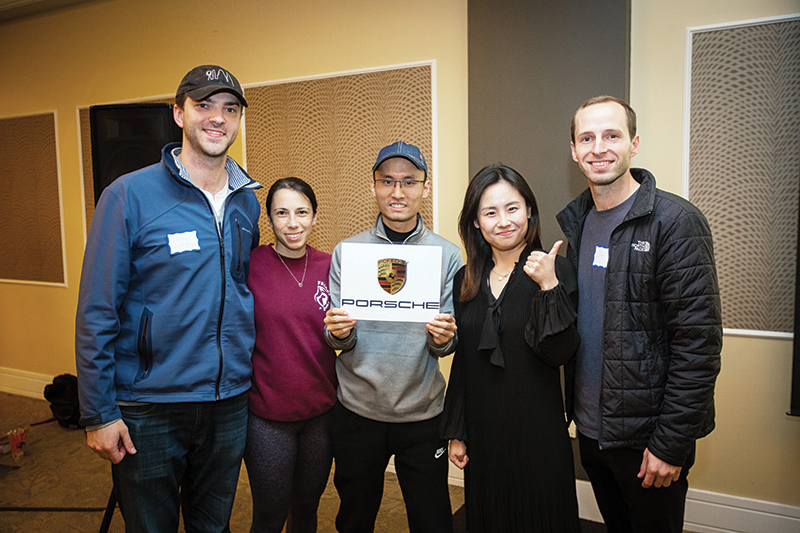 "It's an integrated and holistic experience," said Zehfuss. "These are tools I've used my entire career. I think the students will too." Zehfuss spent years in internal strategy roles at both Turner Entertainment and Spanx. By design, these projects are both "ambiguous and complex," she added.
De Clerck knew from experience how intense the project process would be for the students. He also knew how rewarding it could be for Porsche.
"I was acutely aware of how much of a collaborative, meticulously nurtured project the professors, mentors, and students craft for the client and how much passion is poured into the final deliverable," he said.
De Clerck made sure the student teams had access to the relevant subject matter experts and to data sources. The better informed the student teams were, noted De Clerck, the greater chance Porsche would get relevant, actionable recommendations that it could build on. Recommendations it could, "take to the next level, and ultimately, out into the market and to the customer," he added.
Knowing that the client was counting on her team's recommendations to inform its business decisions and thereby impact its bottom line, Hitti felt real pressure. "That tangibility gives the project a purpose and meaning that can't come from a grade in school," Hitti said. "We had the chance to work on an interesting and exciting project, manage a real client relationship, determine what was important and own all of our decisions as a team. I don't think there is any way to recreate that type of experience in a classroom setting."
Hitti was also impressed that PCNA's CEO blocked off two hours on his calendar to meet with the three Porsche project teams. "He took the time to hear what everybody had to say," she said. "I admired that."
Newfield found the exercise of presenting the project multiple times insightful. Every time her team presented, they were able to condense the presentation.
"This helped teach me how important it is to be concise, sharp, and to the point," she noted. And, how to "cater a presentation to an audience based on its prior knowledge of the topic, understanding what the audience will find most important based on its particular perspective."
Lynne Segall 99MBA, associate dean of Goizueta IMPACT, spent nearly 16 years at Accenture before coming to Goizueta and says the projects are meant to accelerate career readiness by providing the students with the opportunity to apply the lessons from the classroom to solve real-world problems.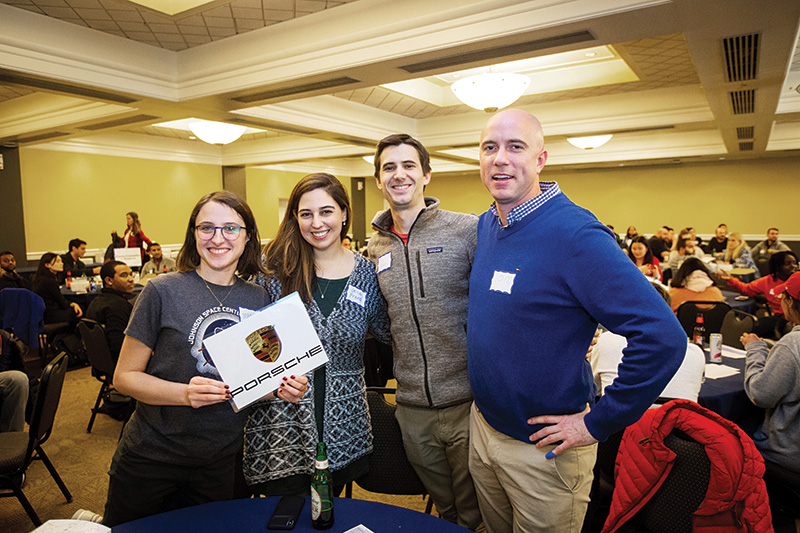 "Porsche pushed these teams to deliver high quality, high impact work," she said. "The invitation for the teams to present to senior management is a testament to the value of the students' work and the power of the Goizueta curriculum. We are fortunate to have strong partners like Porsche that provide excellent opportunities for our students to grow their capabilities while making a difference for the organization."
IMPACT is currently sourcing project sponsors for Spring 2021. If interested and to learn more, contact Kore.breault@emory.edu.