The "good trouble" legacy of civil rights icon John Lewis permeated the first nationwide business case competition honoring him, created by students at Goizueta Business School and culminating during King Week. The competition featured 24 semifinalist teams (selected from more than 100 applicants) and more than 800 people watched the online final round showcasing the top six teams.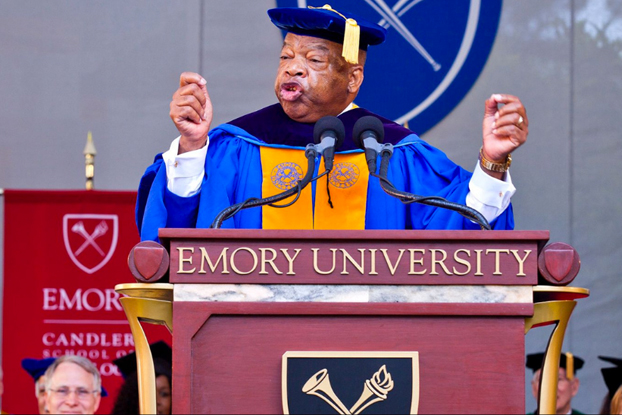 At the finals of the John R. Lewis Racial Justice Case Competition, MBA teams from Emory, Harvard, MIT, Yale, and the University of Southern California brought bold ideas to the event's corporate partners (HP, Johnson & Johnson, Salesforce, Southern Company, Truist, and Walmart). The students' aim: to dismantle racist practices and lift up all employees and customers, not just profits.
"It was exactly what I envisioned," said Willie Sullivan 21MBA, who first thought of the John R. Lewis Racial Justice Case Competition as a response to the national reckoning in 2020 over racial inequities and deaths of George Floyd and others. "These teams needed to say things that these companies wouldn't have thought of, that are good business solutions."
The Lewis family was represented by Jerrick Lewis, the late congressman's nephew, who gave out the awards. "My uncle spent most of his life fighting for civil rights and racial justice for all people. He would have been proud of the initiatives brought forth by the John R. Lewis Racial Justice Case Competition," he said. "By bringing attention to social change and equality, you are honoring my uncle's legacy while also initiating long-lasting social change within the business world."
Diversity, equity, and inclusion professionals across industries served as judges for the competition and included former Lewis chief of staff Michael Collins 15MBA. Teams were judged on their boldness, which is not part of a typical case competition rubric. In addition to the six corporate partners, SurveyMonkey supported the 24 semifinalist teams with market research technology, and Poets & Quants publicized the competition.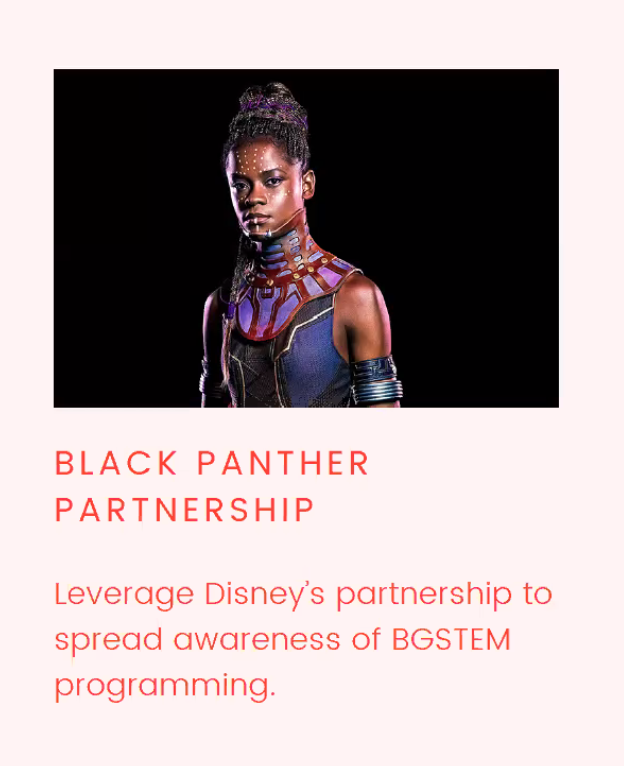 The top prize of $20,000 went to the all-female Team Coalition 4 Change, representing the USC Marshall School of Business. They presented the Johnson & Johnson "BGSTEM" multimedia campaign to promote STEM careers to 2.2 million Black girls through eye-catching stickers on their beauty, first aid, and baby products. A fraction (.028 percent) of sales of those products would fund an online community of support and education for Black girls in STEM, an annual college scholarship, and a branded bus traveling to 50 cities, bringing popup STEM games, stories, and experiments to public schools with the highest Black female enrollment. In a surprising twist, the team recommended that Johnson & Johnson partner with Disney to leverage the popularity of characters of color including the Black Panther scientist Princess Shuri and tell stories of real Black women leaders in STEM.
"I'm just so proud of these young ladies in terms of their thought leadership, their boldness, their brilliance," said Cristal Downing, J&J's vice president of communication and public affairs for medical devices. "Coalition 4 Change nailed it, and I cannot wait to tout this at the company."
Goizueta MBAs supply challenge to HP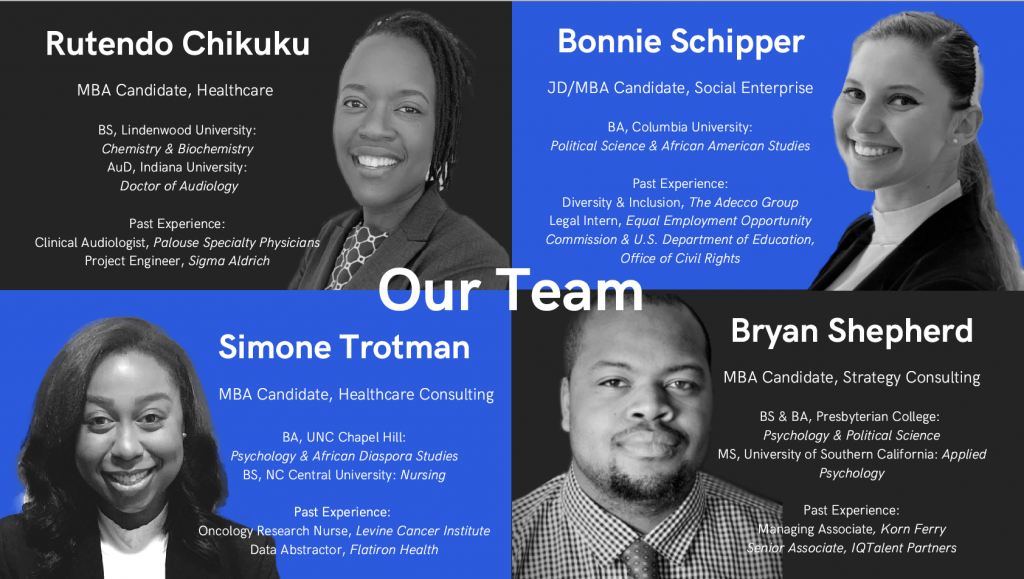 The four Goizueta MBA students on Team I Have a Dream finished second by reimagining HP's supply chain for better relationships with minority vendors and more profitability. Rutendo Chikuku 22MBA, Bonnie Schipper 23MBA 23JD, Bryan Shepherd 22MBA and Simone Trotman 22MBA created their team out of a shared passion to use their positions as MBA students to help those in need and advocate for social justice.
Chikuku and Trotman brought knowledge of disparities in health care, Shepherd has worked on issues of equity in hiring, and Schipper has a background in supplier diversity, equal employment law, and disability advocacy. They chose their team name to honor Lewis' friendship with Martin Luther King Jr.
"We knew if we combined all of our talents and passions that we'd be able to do something meaningful in this competition," said Schipper, a Social Enterprise Fellow.
The team tackled HP's goal to make ten percent of its overall spending go to Black-owned businesses, up from six percent in 2019, by focusing on dismantling systemic inequality through reimagined supply chains. Such targets are rooted in federal civil rights laws that put pressure on companies to end discrimination, and today companies use them as proof they are "doing the right thing," Chikuku said.
"This [type of target] was not a bad place to begin, but it is an imprudent place to end," she added. "Supply diversity must be desegregated from the silo of corporate social responsibility and integrated throughout the entire organization as part of its corporate strategy."
The team recommended HP to pay Black suppliers within ten days, which would ease their cash flow problems and remove a barrier to working with HP. This also would address the economic injustice perpetrated by HP and others who typically negotiate shorter pay terms with larger suppliers. By waiting 60 days to pay, these companies "essentially take out loans on the backs of their suppliers and small businesses are left to pay for it," Schipper said. "Even worse, Black business owners are three times more likely to be denied a business loan, which just rubs salt in the wound."
If adopted by HP, the team's aggressive timeline for change would result in at least $1 billion in company spending with Black suppliers by 2023. They provided research showing that each $1 million in spending with diverse suppliers creates 8.5 jobs within minority-owned businesses.
"COVID-19 has shown the need for agile, responsive and broad supplier bases, and HP can set the standard in demonstrating the value created for the company and the community when supplier diversity is done right," Trotman said.
By finishing second, the team won $10,000, with the stipulation to donate half to a community organization devoted to racial justice or dismantling inequality. They chose OneGoal Metro Atlanta, which seeks economic justice and social mobility for Atlanta high school students by helping them achieve higher education. The USC Marshall first place team will donate half of its $20,000 prize to Step Up for Students and Black Girls Code.
More bold ideas for big businesses to support racial justice
The Harvard Business School team won the $10,000 Audience Prize (and will donate half to The Advancement Project) for its presentation to Truist.
The team said banks like Truist control financial factors such as home loans and bank fees that create about half of the Black wealth gap (Black households' wealth is a tenth of whites'). They proposed Truist take bold steps to own its role in financial inequities by reinvesting more than $500 million in Black and minority communities, schools, and businesses. Why $500 million? The team crunched Truist's SEC filings, investor reports and more, and added up the non-interest income from service deposits, service fees on deposits, and credit card payment related fees.
More diverse executive leadership also would help Truist build more trust in the Black community, the team noted. Even though the states Truist serves are 25 percent Black, only two of Truist's 14 C-level executives are. The homogeneous headshots were prominent in a PowerPoint slide the Harvard team displayed for effect.
"The highest rating for a team's boldness would be a presentation that made people uncomfortable in order to drive innovation and new thinking," Sullivan said. "That slide of Truist's executive team was risky, and definitely demonstrated boldness the most of any finalist team."
The Yale School of Management team presented a case for Walmart to use mobile technology to recruit and train people of color who are on house arrest. This talent pool of 265,000 people nationally includes almost 12,000 in Georgia.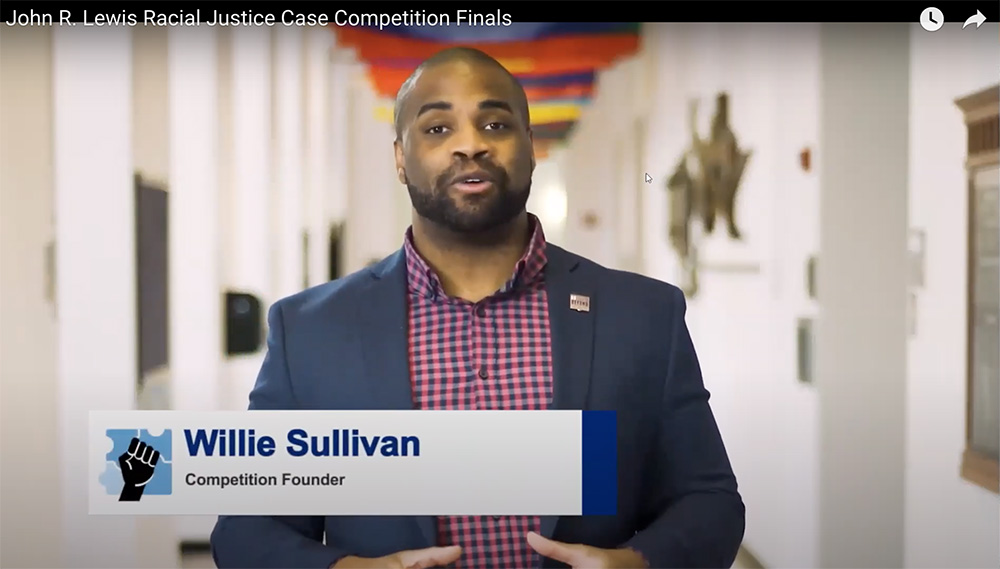 "This is exactly the boldness we are looking for," Sullivan said. "When you're thinking of racial justice, and incarcerated people being reintroduced into society and becoming independent citizens, there are huge downstream consequences if Walmart introduces this. This was bold because who would make that connection between people on house arrest using their phones to train for a job at Walmart?"
Two finalist teams represented MIT Sloan School of Management. One MIT team cited Lewis as their inspiration for "a suite of provocative recommendations to tackle racial inequality" to Salesforce titled "People Over Profits: The Restoration of Our Highest Value." They urged Salesforce to become the first Fortune 500 company to tackle prison reform by taking a stand against the clause in the 13th Amendment that allows involuntary servitude as punishment for a crime.
The team also advocated for down payment assistance on a home for employees in their fourth year at Salesforce who make less than $120,000 a year. To inspire others and remain accountable, the team also recommended Salesforce tell the story of its actions in an ad at the 2022 Super Bowl.
"Communicating these values on a large platform like the Super Bowl is a bold and interesting idea," Sullivan said.
The second MIT team presented "Shared Power: Addressing Racial Justice in the Energy Sector" to inspire Southern Company to recruit and retain high performing Black graduates in tech.
"How to solve that is the most difficult thing to wrap your head around, because Southern Company and other energy companies are up against the fact that high performing engineering students are also being recruited by Google and Salesforce," Sullivan said. "It's hard, but not impossible."
The team pressed Southern Company to meaningfully invest in historically Black colleges and universities (HBCUs) and forge connections to the largely white male networks in the energy sector. The team outlined structured relationship building extending from entry level hires to the executive suite, and even to Black tech entrepreneurs.
"To be totally blunt, we believe that pointing to a pipeline problem ignores the systemic issues at play here," the team's presenter said. "Decades of occupational and geographic segregation mean that Black students have less access to the kind of professional networks that their peers of other races use to advance in the workforce…This is not about a skills gap, this is about a relationships gap."
Praise for students' boldness
The competition finals also featured brief remarks from three prominent guests with ties to Lewis: John Rogers, chairman, co-CEO and chief investment officer for Ariel Investments, one of the country's oldest Black-led mutual funds; Helene Gayle, president and CEO of the Chicago Community Trust; and Jason Carter, chair of The Carter Center and grandson of President Jimmy Carter.
"It takes an enormous amount of courage, if you're in a leadership role in a board room or you're an up-and-comer at a corporation or nonprofit, to actually tell the truth especially when it comes to race," Rogers told the teams. "John Lewis's legacy is more important than ever."
"Racial equity and social justice are really in many ways the defining issues of our time, and this competition to address these issues can have ramifications long into the future," Gayle said.
The speakers praised the students for modeling the early, courageous leadership of Lewis, who was 23 when he spoke at the March on Washington and 25 when he led the "Bloody Sunday" protest at the Edmund Pettus Bridge in Selma, Alabama. Like Lewis, the competition teams were naming, shaming, and solving "we've always done it this way" practices in business.
"John Lewis wasn't just facing down the police dogs and the state patrol and evil sheriffs, he was facing down an entire history and an entire way of life that was entrenched," Carter said. "He had no reason to believe that he was going to be successful in that moment, but he did have the courage of his convictions, and he did understand that what he was standing for was justice."
Goizueta Business School Interim Dean Karen Sedatole noted Sullivan's leadership and boldness that overcame her initial doubts.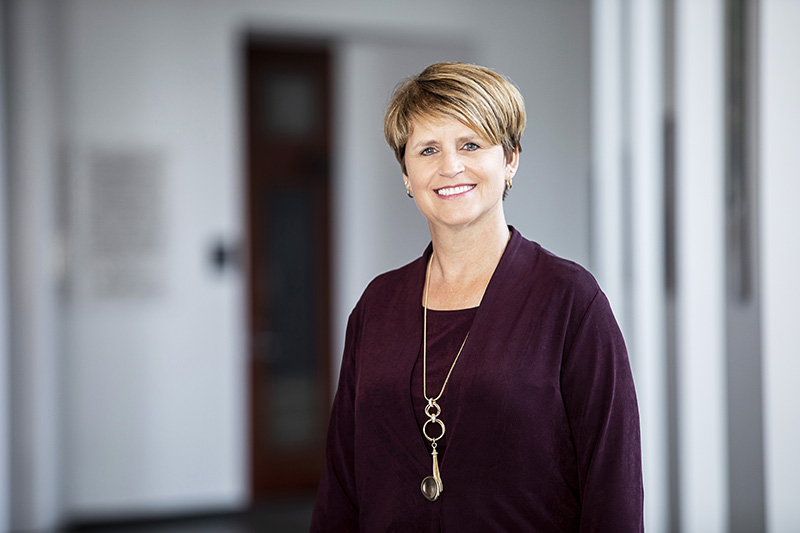 "I expressed concern that his timeline was maybe just a little bit too ambitious. Could we get this competition designed and executed so that we could launch it successfully in such a short amount of time?" she said. "'We have to,' Willie said. 'This is the moment. We have to seize it.' And Willie was right.
"His resolve inspired me as it has inspired so many others. I can't tell you how proud I am that this entire event, while certainly supported by faculty and staff, was student-conceived, student-designed and student-executed. Their passion and leadership skills are a testament to the quality of students, faculty and staff and programs that we have here at Goizueta Business School. We're so very proud of them."
View the Zoom recording of the John Lewis Case Competition finals here or below.